I Can Cook at Christmas is out in November on DVD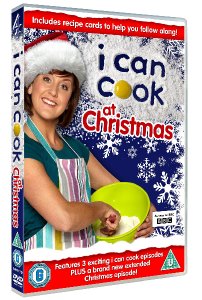 I Can Cook at Christmas
Released exclusively by 4DVD on 23rd November 2009
Kids cook up a storm in the kitchen
I Can Cook at Christmas
is the first DVD available from the exciting new CBeebies series that gets pre-school children in to the kitchen and cooking up a storm. With a selection of specially tailored simple recipes, top cookery tips and the chance to get a bit messy, the series celebrates a hands-on approach to cooking in the festive fun period.
I Can Cook
at Christmas
is released exclusively on
Monday 23rd November
courtesy of
4DVD
. 
Children will be fascinated as they learn how to grow and cook the food they eat, and discover the magic of the full cycle of food. From the field to the fork, children will learn to connect what's on their plate everyday with the world surrounding them. Hosted by newcomer
Katy Ashworth
,
I Can Cook
welcomes five children into the kitchen to create a host of delicious meals. 
In this special DVD, it's that exciting time of year for children - Christmas! Enjoy the exclusive 20 minute festive themed episode where Katy and friends make Turkey and Ham Bake and crunchy Christmas cookies. 
Also on the DVD are three episodes where the children can enjoy popping peppers, sprinkle seasoning and squish squash as they explore where ingredients come from and how foods are made as well as learning some simple kitchen and cookery skills. They will be making dishes such as Magic Mini-Fishcakes, Carrot and Courgette Muffins and Strawberry Meringue Ice Cream - a treat for all the family.  
Children can also join in a sing-along with Katy as she chooses two of her favourite songs. Plus take an enchanting trip to the
I Can Cook
garden, where everyone is having fun planting and watering fruit and vegetables. 
I Can Cook
broadcasts on CBeebies in October 2009.
I Can Cook
is produced by Initial, an Endemol Company. Executive Producers are Christopher Pilkington (Initial) and Sarah Colclough (BBC). The Series Producer is Driana Jones. The show is co-devised by Sally Brown, Kate Morris and Initial, an Endemol Company. 
I Can Cook at Christmas
is available to own on
Monday 23rd November
courtesy of
4DVD
. 
DVD Details
Release date:    
Monday 23rd November 2009  
RRP:               
       £12.99      
Running time:   
90 mins approx.
Format:
                                1 Disc
Cert:                     
U
Cat No:
                 C4DVD10312