River Cottage Autumn out in November on DVD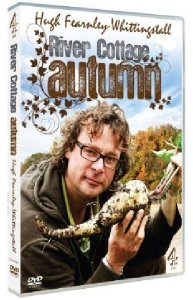 River Cottage Autumn
And
River Cottage Collection Box Set 
Both DVD are released Monday 16th November 2009 on 4DVD
Channel 4's champion chef, writer and campaigner for local organic food, Hugh Fearnley-Whittingstall, returns with a brand new instalment of the River Cottage series,
River Cottage Autumn
, which is available exclusively through 4DVD on
Monday 16th November 2009
.
Released on the same day is the
River Cottage Collection Box Set
which boasts an impressive
10 DVDs
from across seven series, priced £59.99.
In
River Cottage Autumn
, Hugh returns to harvest the best that autumn has to offer from the sea and the land and from forest to kitchen garden, cooking and eating everything he finds, from root vegetables and fruits to wild game and fish. 
The DVD includes a wonderful array of tempting recipes to inspire everyone to get in the kitchen and celebrate the season's best, whether home grown or shop bought. There's stuffed and roasted belly of pork, spicy lamb curries and plenty of puddings too! Hugh also catches up with the Bristol smallholders he first met in River Cottage Spring, as they try their hand making their own faggots, sausages and even goat's cheese. 
And in true Hugh style there's plenty of River Cottage parties, from a fully foraged four-course dinner, complete with oysters, squirrel and home brew, to a fun and food filled Duck Fair and a rowdy Bonfire night. 
For all fans of the British celebrity chef, Hugh Fearnley-Whittingstall there is the amazing 10 DVD
River Cottage Collection
. 
This special
River Cottage Collection Box Set
is a delightful feast and follows Hugh on his wonderful culinary journey as he showcases the very principles he stands for; self-sufficiency, food integrity and the consumption of local, seasonal produce. 
Well known for his back-to-basics philosophy on cooking, Hugh has practiced what he preaches at River Cottage for a number of years now, cultivating his vegetable garden, raising chickens, pigs and even cattle for his table. The box set follows Hugh on many of his missions to change the way people view food and offer mouth-watering recipes to enthuse and salivate over. 
DVDs featuring in the box set include: 
A Cook on the Wild Side
Beyond River Cottage
River Cottage Road Trip
River Cottage Gone Fishing
River Cottage Spring
River Cottage Autumn
The River Cottage Treatment
The River Cottage Collection Box Set
also includes
The River Cottage Treatment
, released for the first time ever on DVD. The treatment follows Hugh as he invites groups of urban dwellers to his River Cottage HQ for a taste of his "grow your own" philosophy and tries to change their foodie ways forever. In this series Hugh tackles the food phobias and laziness of a group of cheap supermarket chicken-lovers with some tough love showing them the horrors of factory poultry farms and tests how they cope with a week on a farm.  Hugh also meets self-confessed ready meal addicts and takeaway townies - how will they cope growing and cooking their own food and not being able to depend on the supermarkets and fast food outlets? Will the groups discover their "inner cooks" and rise to the challenge? Or rebel against The River Cottage Treatment? 
River Cottage Autumn
and
River Cottage Collection Box Set
are both available to own on DVD on
16th November 2009
by
4DVD.