Rhod Gilbert's Mince Pie out on DVD in November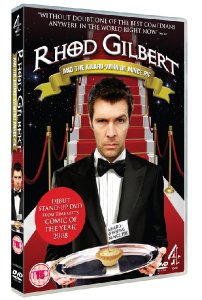 RHOD GILBERT'S DEBUT DVD
'
RHOD GILBERT & THE AWARD-WINNING MINCE PIE'
Released exclusively by 4DVD from 16th November 2009
"Without doubt one of the best comedians anywhere in the world right now"
TIME OUT
"A virtuoso performance. Every moment is exhilarating, passionate and sparklingly funny"
CHORTLE
"Gilbert's performance is powerhouse and this show is his best yet"
METRO
"Tonight, Rhod Gilbert was on fire…comedy manna from heaven"
INDEPENDENT
"Face-achingly funny…the audience were genuinely weeping with laughter"
DAILY RECORD
"A rollercoaster theatre show…in comic terms, he looks indomitable"
GUARDIAN
"His finest hour of stand up yet...a joy to behold"
TIMES
The multi-award-winning Welsh wonder and star of the Royal Variety Performance, Rhod Gilbert, is back with his hilarious and critically acclaimed show
'Rhod Gilbert and the Award-Winning Mince Pie',
available to own on DVD from 16th November 2009 courtesy of 4DVD.
Since his Perrier Newcomer-nominated debut show - 'Rhod Gilbert's 1984', Rhod has been haunted by critics describing him as a 'serial fantasist of ex-prime ministerial proportions'. So Rhod decided to abandon his fictional tales of Llanbobl, and try living in the real world for once in
'Rhod Gilbert and the Award-Winning Mince Pie'
, for which he received a nomination for the highly coveted if.comedy 'best comedy show' award in Edinburgh 2008.
Rhod's mince pie experience starts at a service station somewhere in the UK at around 2.40am. He finds himself aggressively demanding to know more about an 'award-winning mince pie' on display in the corner. Suddenly aware of what he is doing, Rhod is forced to acknowledge that he may be having a very mild nervous breakdown. How did it come to this? He doesn't even like mince pies. Filmed earlier this year at the Bloomsbury Theatre over two sold out dates, this DVD tells the slightly ridiculous story of how one mince pie broke the camel's back.
The DVD includes a Llanbobl featurette, the fictional Welsh town which forms the basis of most of his stand-up. Plus Rhod's hilarious 'luggage rant', which is one of the hottest stand-up clips on YouTube - attracting almost 4.5million views. According to leading comedy website Chortle, Rhod appears at number six on its top ten comedy clips list and is the only British comedian featured.
Rhod has won a host of awards including; a Chortle Award for Comics Comic and Best Headliner in 2009 and a Time Out magazine Award for Comic of the Year and Best Show of the Year in 2008.
He was also a Breakthrough Act nominee at the Times / Southbank Awards in 2008, a Chortle Awards nominee for Best Full Show in 2009 and Best Headliner in 2008. And was nominated for the Best Radio Personality at the Celtic Media Awards in 2008.
On TV screens, Rhod has appeared on 'The Royal Variety Performance' (ITV), 'Live At The Apollo' (BBC1) and 'Never Mind The Buzzcocks' (BBC2), with multiple appearances on '8 Out Of 10 Cats' (Channel 4) and 'Mock The Week' (BBC 2). He was also the headline act on the new BBC1 show Michael McIntyre's Comedy Roadshow and is now a regular correspondent on The One Show (BBC1).
Not just a natural on our TV screens, Rhod has written a sitcom for BBC Radio 2 entitled 'Rhod Gilbert's Leaving Llanbobl' which broadcast last December. He continues to present his own weekly live show on BBC Radio Wales every Saturday from 11am-1pm and has also appeared on 'Loose Ends', 'Just A Minute' and '4 At The Fringe' (BBC Radio 4).
DVD details
Release date
: 16th November 2009
Running time
: TBC
Cert
: TBC
Format
: 1 disc
RRP
: £19.99
www.myspace.com/rhodgilbertcomedian
www.comedystoremanagement.com