Billy Connolly Ultimate DVD Box Set out in November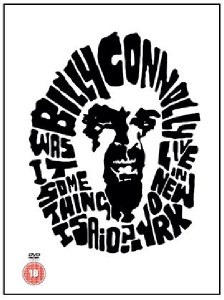 The King of Comedy and Godfather of stand-up is back.
Bringing together two of his most popular shows,
Live in New York
and
Was It Something I Said?
, this DVD release captures the comedy legend at his brilliant, inspirational, hilariously funny best. 
Whether it's hilariously long-winded and animated tall tales, knock-out hysterical one-liners or sharp observational humour that floats your comedy boat, the Big Yin's stand-up consistently ticks every box. 
Live in New York
was filmed in NY's Town Hall in Feb 2005, and is Billy's first concert filmed in America despite the fact that toured the USA for three decades.
Was It Something I Said?
was filmed in Adelaide on the Australian leg of his sell out 2006 World Tour. 
A legendary performer, presenter, actor, musician and comic genius, Billy Connolly is one of the most successful and popular British artists of all time. He is not afraid to tell you like it is and even though, at times, he may get criticised for his language and subject matter, he has undoubtedly brought more pleasure and laughter to more people than any other living person. 
The
Billy Connolly Ultimate Box Set
, showcases the King doing what he does best - making us laugh. This DVD extravaganza contains 6 hilarious Live shows and all 5 of Billy's epic journey's around the world.
'The king of British stand-up'
Guardian
'One of the enduring wonders of the comedy world'
The Telegraph 
BILLY CONNOLLY: LIVE IN NEW YORK & WAS IT SOMETHING I SAID? DVD, Cert 18, RRP £19.99
BILLY CONNOLLY ULTIMATE DVD BOX SET, Cert 18, RRP £99.99
Released by Universal Pictures Ltd on Monday 23rd November 2009
BILLY CONNOLLY LIVES BOX SET - released exclusively at Tesco on Monday 30th November RRP £29.99
© 2009 Universal Studios.  All Rights Reserved.