Russell Brand's Messiah Complex bursts out onto DVD this November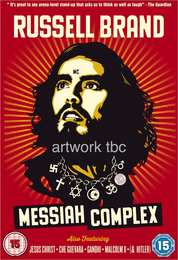 Russell Brand has been in the news a bit recently talking politics, which has probably thrilled
BBC Worldwide
as they are releasing his stand-up world tour
Messiah Complex
on DVD this coming 25th November.
Arriving with a recommended retail price of £20.42, and also available for digital download a week earlier on the 18th, this show was recorded live at London's Hammersmith Apollo.
Synopsis and sort-of-trailer follow...
Bringing his unique, out spoken and above all funny observations to his latest stand up show, Russell Brand continues to ask the questions that nobody else does.
Russell questions the value of heroes and leaders, and if a Messiah Complex is a disorder where sufferers think they might be the messiah. Did Jesus have it? What about Che Guevara, Gandhi, Malcolm X and Hitler?

All these men have shaped our lives and influenced the way we think. Their images are used to represent ideas that often do not relate to them at all. Would Gandhi be into Apple? Would Che Guevara endorse Madonna? Would Jesus be into Christianity?
He concludes it's all a load of old rubbish and encourages the audience to stop voting, ignore advertising, look to the transcendent within themselves and others, and kick over some bins on their way home. Plus there's sex. Obviously.