Al Murray in The Pub Landlord's Beautiful British Tour LIve out this week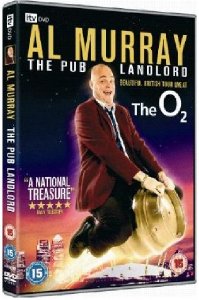 AL MURRAY, THE PUB LANDLORD'S BEAUTIFUL BRITISH TOUR LIVE AT THE O2 - DVD OUT 16TH NOVEMBER 
Direct from THE GUV's largest lock-in, all hail to the ale this autumn as
Al Murray - The Pub Landlord's Beautiful British Tour Live at the O2
is released by ITV DVD on 16th November 2009.  Recorded live this May during his three times extended, sell-out national tour, join an audience of 15,000 as the nation's favourite publican and star of ITV1's
Al Murray's Happy Hour,
and
Another Audience With…
embarks on his one man crusade to put the Great back into Great Britain. 
Addressing a heady brew of topics with his imitable boozer-based logic and audience banter, AL MURRAY, THE PUB LANDLORD points his finger of shame and offers Common Sense solutions to Broken Britain.  Get ready as he deals with the issues that matter, from the global financial crisis and London 2012, to The Lucky Lucky List, a definitive guide to the UK's leading Chancers.  Plus bonus features including: exclusive unseen backstage footage, never heard before running commentary, a DVD exclusive of The Broken Britain Boogie (Tuesday Night Dance Mix) by Go Home Productions (previously remixed for legendary rockers Blondie and David Bowie) which sees The Pub Landlord-turn-DJ in a dance remix of the tour's anthem and footage from a very intimate sell-out lock-in at this year's Edinburgh Festival.  This autumn the shaming finger of shame will be pointed at you, if you miss what promises to be the must see stand-up comedy DVD of 2009. 
A busy twelve months for THE GUV has seen him: extend his critically acclaimed 2009 national tour
Al Murray
- The Pub Landlord's Beautiful British Tour
three times, totaling over 80 shows and selling in excess of 220,000 tickets; record series two and three of his
British Comedy Award-
winning
Al Murray
's Happy Hour
(ITV1); headline BBC ONE's flagship comedy show
Live at the Apollo
(BBC ONE); and return to the Edinburgh Festival Fringe with a sell-out run of his four (1996-1999)
Perrier Award
nominated, and ultimately
Perrier Award
winning, shows.  In addition to releasing his brand new DVD -
Al Murray - The Pub Landlord's Beautiful British Tour Live at the O2
, a packed autumn will also see him: launch
Think Yourself British by Al Murray, The Pub Landlord
- the follow-up to his
Richard and Judy Book Club
winning
The Pub Landlord's Book of British Common Sense
- the most successful humour book of 2007/8, which sold over 300,000 copies and spent 21 weeks in the
Sunday Times
Bestsellers' List; and return to the road with the extension of
Al Murray
- The Pub Landlord's Beautiful British Tour
. 
ends
Al Murray, The Pub Landlord's Beautiful British Tour Live at The O2 (cert 15 - UK & Ireland), £19.99, Avalon Television 2009
(Feature length: 105 mins approx      Extras: 16 mins approx)               Cat no. 3711531953
Release date: 16th November 2009
What the press said about Al Murray - The Pub Landlord's Beautiful British Tour:
Yes, after 15 years as the Little Englander loudmouth, Al Murray is still playing his part with as much aplomb as any comedian currently working. And, for much of this enjoyably unacceptable two-hour set, he's beyond reproach. The way he integrates the crowd into the show is awe-inspiring. * * * *
Dominic Maxwell, The Times
After 15 years of refining his act, it's now in peak satirical condition. The Pub Landlord can pick out targets for his blinkered, chauvinist ire with the finesse of a master marksman… Few other acts reach quite so comfortably inside the confused, wounded mindset of the modern Brit. As our economy founders, here's one national treasure to cherish. * * * * *
Dominic Cavendish, Daily Telegraph