Russel Brand's Live O2 Gig out in November on DVD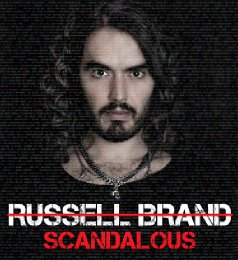 RUSSELL BRAND SCANDALOUS
Live at the O2
Brand new DVD released Monday 9th November 2009 on 4DVD
• Sachsgate scandal • First live DVD release in two years •18 certificate •
Russell Brand, the most thrilling comedian of his generation, will release his third DVD, Scandalous - Live at the 02, through 4DVD on Monday 9th November 2009.  
His first live DVD in two years will feature fresh stand up material inspired by the Sachsgate scandal, including Brand's first hand experience of the media storm that followed his actions with Jonathan Ross on the BBC Radio 2 show.
From death threats to being likened to Harold Shipman, Brand rolls out 60 minutes of sharp material and slams some of the more extreme public reactions to 'that' phone call - "send them to Afghanistan!"  The lively set, recorded during his sell out UK wide 'Scandalous' tour, rolls out two hours of boundary pushing, fantastically original material, confronting ideas that others would never dream of voicing.
Brand dissects his stellar rise to Hollywood fame, lives up to his notorious reputation by flirting with the audience and offers amusing animated sex tips.  He pokes fun at his trademark style, defending his leggings as "Testostertrousers" and offers hysterical anecdotes about Tim Westwood and Helen Mirren.
His stateside experience of hosting the MTV Video Music Awards in 2008 is also a source of material for Brand as he infamously offended American viewers by calling U.S. President George W. Bush a "retarded cowboy fella".  Quickly realising he had to abandon his original script and present off the top of his head, Brand saves many of the original jokes for the DVD and delivers them with eloquence. 
Russell Brand has had a successful career in stand-up comedy since his first appearance at the Hackney Empire New Act of the Year Final in 2000.  Appearances include the Teenage Cancer Trust and Royal Variety Performance in 2007, which followed his first nationwide tour, Shame, in 2006.  His second tour included the Russell Brand:  Only Joking tour, which was released on DVD as Russell Brand: Doin' Life and has sold 250,000 copies to date.
His debut autobiography, My Booky Wook, sold over a million copies and he recorded a special for Comedy Central titled Russell Brand in New York.  He has also had a hugely successful movie career with hits such as the romantic comedy Forgetting Sarah Marshall, St Trinian's and Bedtime Stories.  His next film release is The Tempest with Helen Mirren, which will hit screens at the beginning of 2010.  He is also currently filming Getting him to the Greek, which will be released in UK cinemas in summer 2010.
Brand followed up his Best Newcomer award at the British Comedy Awards with the Best Live Stand-Up gong at last year's bash. It has also been announced that he will present the MTV Video Music Awards again in America on 13th September this year.
The DVD will also feature never-been-seen-before DVD extras including an exclusive 'Frank and Explicit' 60 minute interview with Frank Skinner interviewing Russell. In addition there is 'Private Glancer', a 30 minute behind the scenes footage of Russell throughout his Scandalous Tour.
DVD Details                                             
Released:               4DVD                            Format:                 1 x DVD
Running Time:           60 mins approx                  Released:               9th November 2009
Cert:                   18                              Price:                  £19.99