Bill Bailey's Remarkable Guide to the Orchestra out in November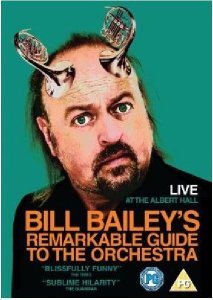 Universal Pictures (UK) presents
BILL BAILEY'S REMARKABLE GUIDE TO THE ORCHESTRA
~ on DVD, Blu Ray and special edition Box Set ~
"Wonderfully enjoyable... Like driving a Rolls Royce off-road"
Stephen Fry 
Recorded at last year's sell out shows at London's magnificent Royal Albert Hall, BILL BAILEY'S
REMARKABLE GUIDE TO THE ORCHESTRA
gets its DVD / Blu Ray release on Monday 23 November 2009 through Universal Pictures (UK). 
Comedian and classically trained musician, Bill Bailey joins forces with the brilliantly versatile BBC Concert Orchestra and musical maestro Anne Dudley, one of the UK's most celebrated composers and arrangers. 
REMARKABLE GUIDE
… is Bill's own uniquely hilarious and irreverent guide to the sounds, styles, and instruments of the orchestra, with a wide and eclectic range of subjects, including music for 70's cop shows, sci-fi films, horror movies, news themes, plus some of Bill's own songs re-imagined for an orchestra, and including Anne's own, specially written new works. 
The
REMARKABLE GUIDE
… DVD and Blu Ray discs feature the full 1 hour 45 minute live show, plus an additional 17 minutes of bonus material. 
Released alongside is
BILL BAILEY: THE INEVITABLE BOX SET
which features Bill's sell out live shows from the past decade and beyond. The box set includes Bill's debut stand up show
COSMIC JAM
, recorded at the Bloomsbury Theatre in 1996, his 2001 stand up show
BEWILDERNESS
, the smash hit comedy show of 2004
PART TROLL
, filmed at Hammersmith Apollo, his sell out arena show
TINSELWORM
recorded at Wembley Arena and of course,
BILL BAILEY'S REMARKABLE GUIDE TO THE ORCHESTRA
.
"Blissfully funny."
The Times
"Sublime Hilarity"
The Guardian
BILL BAILEY'S REMARKABLE GUIDE TO THE ORCHESTRA (available on DVD and Blu Ray) and
BILL BAILEY: THE INEVITABLE BOX SET are released on Monday 23 November 2009
The DVD release coincides with Bill's latest live extravaganza, a series of very special live performances of his show
BILL BAILEY'S REMARKABLE GUIDE TO THE ORCHESTRA
. 
REMARKABLE GUIDE… LIVE
opens at the Wales Millennium Centre, Cardiff on Friday 6 November with further performances confirmed for Birmingham, Manchester, Dublin, Belfast, Liverpool, Coventry and Edinburgh before culminating at Gateshead's Sage Centre on 14 December.   Full listings details can be found at www.BillBailey.co.uk. 
BILL BAILEY'S REMARKABLE GUIDE TO THE ORCHESTRA
first came about when he was handed the keys to the BBC Concert Orchestra for a Comic Relief Special which aired on BBC Radio 3 back in March 2007. The distinctive show was so well received that in the autumn of 2008 Bill took the show to London, performing three sell out dates at The Royal Albert Hall.  The show was recorded for TV and aired on BBC2 in May 2009. 
A veteran of live comedy, British Comedy Award Winner Bill has enjoyed success on the live stage for many years.  In 2001 he took his show
Bewilderness
to New York for an eight week run at the Westbeth Theatre. The New York Times wrote of him, "
Bill is an unalloyed pleasure, a treat for the funny bone, the brain and the ear"
and The Telegraph pronounced him
"a hobbit with a wicked sense of humour"
. In 2004 he performed his show
Part Troll
at over fifty venues around the UK, culminating in an extended run at London's Wyndhams Theatre.  In 2007 he embarked on his smash hit, sold-out UK arena tour, the audio-visual, comedic extravaganza,
Tinselworm
.  He took the show down under during the summer of 2008, touring Australia and New Zealand, before returning to London in December 2008 for a ten week run of the show at The Gielgud Theatre.  The show was subsequently released on DVD and sold over a staggering quarter of a million copies. 
A regular on the festival circuit, Bill recently played at the first ever Comedy Session at the iconic Eden Project in Cornwall. 
Bill has also performed at the Edinburgh Festival almost every year since his debut in 1996 when he was nominated for the prestigious Perrier Award for his stand-up show
Cosmic Jam.  The fringe has also seen Bill branch out as
a dramatic actor, firstly in an extremely well-received production of
12 Angry Men
, as the restrained Juror 4, two years later as the slouchy, unkempt Oscar in the equally acclaimed,
The Odd Couple
. 
Having taken over from Sean Hughes in 2002, following eleven successful and enjoyable series', autumn 2008 saw Bill step down from his role as team captain on the long running music, comedy panel show,
Never Mind The Buzzcocks
(BBC2).  
In addition to
Buzzcocks,
Bill's TV portfolio includes three series of the hit black comedy
Black Books
(C4) in which he played the increasingly deranged ex-accountant Manny Bianco opposite fellow comic Dylan Moran, appearances in the edgy teen drama
Skins
(C4), guest host on the satirical panel show
Have I Got News For You
(BBC1), the wildlife series
Wild Thing I Love You
(C4), acclaimed comedy
Spaced
(C4),
Is It Bill Bailey?
(BBC2),
Bill Bailey Live
(C4),
Jonathan
Creek
(BBC1) and
Wild West
(BBC1). 
Bill also appeared in the film S
aving Grace
, had a cameo appearance in the comedy feature
Hot Fuzz
and can be seen playing Farmer MacReadie in next year's comedy sequel,
Nanny McPhee and the Big Bang
. 
Bill has appeared across the BBC radio airwaves.  In addition to his Radio 3
Orchestra
special, he played the Museum Curator in the comedy panel series
Museum of Curiosity
on Radio 4 and hosted
Earth, Wind for Hire
, a four part series on Radio 2 about the phenomenon of the tribute act. 
Bill has long been a supporter of numerous charities including International Animal Rescue, with whom he visited Dancing Bear Sanctuaries in India in 2005, as well as Stand Up For Animals, The Sumatran Orangutan Society, Comic Relief and Bowel Cancer UK, for whom he's appeared at various benefit gigs. 
Bill has most recently enjoyed a sell out summer tour of the UK with his show
Bill Bailey: Live
and is currently developing ideas for film and television with his own production company, Glassbox Productions, who are responsible for bringing to the screen
Tinselworm
and
Bill Bailey's Remarkable Guide to the Orchestra.
A little bit about Anne Dudley…
Collaborator Anne Dudley is a musician, composer, arranger and producer who's work straddles both contemporary pop and classical music in a very unique way.  She was a founding member of the pioneering sampling group,
The Art of Noise
(
Close to the Edit
,
Kiss
feat. Tom Jones) with whom she won a Billboard Award for Best New Black Act.  
With over 15 years experience of writing for film and television, her scores include
American History X
,
The Crying Game, Bright Young Things
and
The Full Monty
for which she won the 1998 Academy Award© for Best Soundtrack, as well as the more recent
Trial and Retribution
for which she has been nominated at the 2009 Ivor Novello Awards.   
As writer, arranger and producer, Anne has worked with a diverse mix of artists including Elton John, Pulp, Phil Collins, Jeff Beck, Boyzone, Alison Moyet and Travis among others.  
In 2001 she was appointed the first Composer in Association with the BBC Concert Orchestra where her credits include
Music and Silence
, an orchestral score based on scenes from Rose Tremain's novel, a Christmas concert based on the theme of 'Ancient and Modern' that featured the world premiere of Anne's cantata
A Winter Solstice
and
Northern Lights
, a score inspired by the music and culture of Norway.  As part of the BBC's Electric Proms season, Anne recently arranged the tracks from the classic soundtrack
Saturday Night Fever
for a 60 piece orchestra.  The show, which she directed from the keyboard, featured artists including Sharleen Spiteri, Sam Sparro and Robin Gibb.
Universal Pictures (UK) is a division of Universal Pictures International Entertainment which is part of NBC Universal - one of the world's leading media and entertainment companies in the development, production, and marketing of entertainment, news, and information to a global audience. Formed in May 2004 through the combining of NBC and Vivendi Universal Entertainment, NBC Universal owns and operates a valuable portfolio of news and entertainment networks, a premier motion picture company, significant television production operations, a leading television stations group, and world-renowned theme parks. NBC Universal is 80%-owned by General Electric, with 20% controlled by Vivendi Universal.  
BILL BAILEY'S REMARKABLE GUIDE TO THE ORCHESTRA (available on DVD and Blu Ray) and
BILL BAILEY: THE INEVITABLE BOX SET are released on Monday 23 November 2009
BILL BAILEY'S REMARKABLE GUIDE TO THE ORCHESTRA LIVE TOUR 2009
Full listings details can be found at www.BillBailey.co.uk.