Australian comic Tim Minchin's Ready for This? hits DVD and Blu-ray this November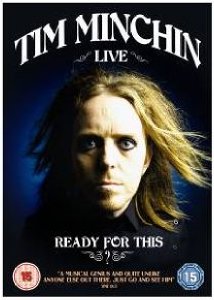 TIM MINCHIN
READY FOR THIS?
Available on DVD, Blu-ray and iTunes from Universal Pictures (UK) Ltd on 29th November 2010
In his second live DVD,
Ready For This?
,available on DVD, Blu-ray and iTunes from 29th November 2010, Perrier award winner, uberminstrel and comedy rock super star
Tim Minchin
confronts the pressing issues of the day: love, truth, dancing bears and ginger body hair.
Following the success of his debut DVD,
So F**king Rock,
and huge, sold-out tours of the UK and Australia, the piano-bashing, icon-trashing, nerd-brained, rock-voiced, hedgehog-haired, tight-trousered philosopher-comedian is fast becoming known as one of his generation's most brilliant and unique live performers.
Filmed during a packed 3-night run at the HMV Hammersmith Apollo,
Ready For This?
features
Canvas Bags,
Bears Don't Dig On Dancing
,
Prejudice (Only a Ginger)
,
White Wine In The Sun
, a nine minute beat poem:
Storm
and more from comedy's hottest rock 'n' roll megastar. The DVD contains a 28-page lyrics book and DVD extras include animated internet sensation
Pope Song
,
an interview and performance from Friday Night with Jonathan Ross
and a music video made for
The
Big Fat Quiz
.
As well as performing to sell-out crowds around the world, Tim has written the music and lyrics for RSC's new musical version of Roald Dahl's
'Matilda'
and his radio sitcom pilot
'Strings'
was broadcast on BBC Radio 2 in May this year. Tim also embarks on his first Arena tour, joined by a 55 piece orchestra, in December 2010.
"Tim Minchin is a genius, pure and simple. He is to musical comedy what Charles Darwin was to evolution and what Einstein was to physics and moustaches. You'd be hard pushed to find a more sublimely talented comedian. Handsome, hysterical and divinely musically gifted - you can go off people, you know!"
(Tim Arthur, Time Out)
"Minchin is a genuine musical virtuoso, whose songs are constructed and sung with an attention to detail that would make Rufus Wainwright sit up and look nervous. And that's even before we get to the jokes."
(The Times)
AWARDS:
Winner: Perrier Award for Best Newcomer, Edinburgh 2005
Winner: Festival Director's Award, Melbourne 2005
Winner: Best Alternative Comedian, US Comedy Arts Festival 2007
www.timminchin.com
© 2010 Universal Studios. All Rights Reserved.