It Ain't Half Hot Mum - Complete Collection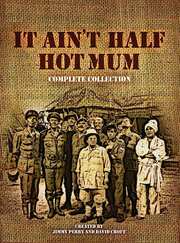 All the episodes from series one to eight of Jimmy Perry and David Croft's It Ain't Half Hot Mum, first broadcast in 1974.
Certificate: 12
Running Time: 1601 mins
Retail Price: £59.99
Release Date: 2010
Content Type: TV Series
Synopsis:
This period sitcom, created by David Croft and Jimmy Perry, seemed a natural follow-up to their smash hit Dad's Army. Another ensemble piece, it drew on both writers' wartime experience in India and set the action in Deolali: a British army camp 100 miles north-east of Bombay where everyone's gone "a bit doolally".

The concert party is a rag-tag collection of soldiers who'd rather sing, dance and drag up to entertain the military troops than be sent forward to the front line. Characters include effeminate drag artist Gunner 'Gloria' Beaumont (Melvyn Hayes); the diminutive Gunner 'Lofty' Willie Sugden (Don Estelle) who possesses a hauntingly beautiful singing voice and ineffectual Colonel Reynolds (Donald Hewlett). However, the show's stand-out personality is the bombastic, eye-rolling Battery Sergeant Major Williams (Windsor Davies).
Special Features:
Season 1 Episode 4: A Star Is Born
Season 1 Episode 6: It's a Wise Child

Lost episodes recovered from Australian Commercial TV broadcasts.

"Whispering Grass" Don Estelle and Windsor Davies Top of the Pops performance.

Video Tracks:
4:3 regular

Audio Tracks:
DD 2.0 mono English

Subtitle Tracks:
English

Directed By:
David Croft
John Kilby
Phil Bishop
Graeme Muir
Bob Spiers
Ray Butt

Written By:
David Croft
Jimmy Perry

Starring:
Windsor Davies
Melvyn Hayes
Donald Hewlett
Don Estelle
Michael Knowles
Christopher Mitchell
John Clegg
Stuart McGugan
Dino Shafeek
Mike Kinsey
Kenneth MacDonald
Barbar Bhatti
Michael Bates
George Layton
Andy Ho
Renu Setna
Ashwin Patel
Mohammad Shamsi
Ishaq Bux

Editor:
Bob Rymer
Clive Smith
Christopher Woolley

Costume Designer:
Susan Wheal
Mary Husband

Production Designer:
Bryan Ellis
Barbara Gosnold

Producer:
David Croft
Graeme Muir

Distributor:
BBC DVD