Tim Vine's stand-up show Punslinger hits DVD in November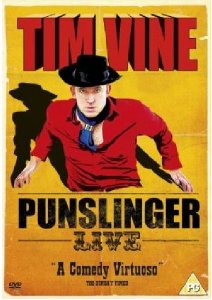 Tim Vine: Punslinger
www.timvine.com
"A comedy Virtuoso"
- The Sunday Times
Tim Vine
is undoubtedly one of the UKs finest and funniest comedians.
Since winning the Perrier newcomer award in 1995, Tim has gone from strength to strength. He has just finished shooting series 4 of the hit BBC sit-com
"Not Going Out"
in which heplays the part of Tim Adams, and his book
"The Biggest Ever Tim Vine Joke Book"
was recently released by Century publishing. He also won Best Joke at this year's Edinburgh Festival.
He was one of the regular comedians to write and appear in the ITV comedy series
"The Sketch Show",
which went on to win a BAFTA, and in 2004 he broke the Guinness World Record for the most jokes told in an hour - a staggering 499! His tours are always an instant sell-out and he has regularly appeared at the Edinburgh Festival with shows such as "The Tim Vine Shambles" and "The Tim Vine Fiasco."
In 2009 he became one of an elite group of celebrities to record a cameo in
Neighbours calling it "a dream come true."
The same year Tim won "
Celebrity Mastermind",
with Elvis Presley as his specialist subject.
Previously Tim appeared as a contestant on
"Comic Relief Does Fame Academy"
for the 2007 Red Nose Day campaign, further showing off his diversity and cementing himself as one of the UKs best and most loved talents.
Recorded at the Bloomsbury theatre London, his 2008 live show
'Punslinger'
comes to DVD on
November 22
with a whole host of hilarious extras.