Ricky Gervais' stand-up set Science hits DVD and Blu-ray in November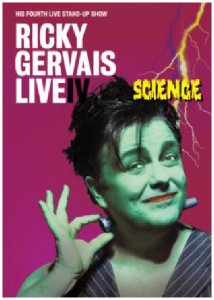 SCIENCE
RICKY GERVAIS LIVE IV
DVD Released by Universal Pictures (UK) Ltd on Monday 22nd November 2010
Following a complete sell out tour and filmed live at London's Hammersmith HMV Apollo, this is the hilarious fourth live smash hit stand up show from Ricky Gervais, which will be released on DVD on 22nd November.
Never afraid to challenge comedy boundaries, Ricky is renowned for his acerbic observational humour and cutting delivery. Set on a stage designed to look like Frankenstein's castle laboratory, this show brings together thought provoking rants and tongue in cheek political incorrectness about subjects as diverse as religion, racism and obesity.
One of the highlights of the show is every atheist's dream; Ricky dissects an old school book that tells the story of Noah's Ark.
As well as the critically acclaimed show, the DVD also features an exclusive extras package containing a tour diary with behind the scenes footage, an interview with Karl Pilkington and Warwick Davis plus a candid chat between Karl and Ricky.
"Ricky Gervais is the height of modern entertainment."
John Cleese
"Ricky Gervais absolutely kills me every time I see him."
Jerry Seinfeld
"One of the funniest comedians I've ever seen."
Chris Rock
"A total original…some kind of genius in human observation."
Billy Connolly
"

Tasteless and unfunny

."
The Daily Mail
Ricky Gervais Live IV: Science
on DVD, BD and iTunes
DVD RRP£19.99 / BD RRP£24.99 / iTunes


Ricky Gervais - Triple DVD boxset
Including: Science, Fame and Animals, RRP£29.99

Ricky Gervais - Live, The Complete DVD boxset
Including all 4 shows: Science, Fame, Politics and Animals RRP£39.99
Released by Universal Pictures (UK) Ltd on Monday 22nd November 2010
© 2010 Universal Studios. All Rights Reserved.