Dylan Moran Live out on DVD in November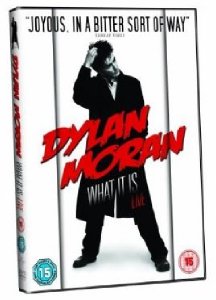 Universal Pictures UK
Present


Dylan Moran: What it Is
LIVE on DVD
Released Nov 23rd
(also available on audio Casette)
Press information for immediate release: 
Dylan Moran's
latest stand-up show
'What It Is'
has been playing to packed-out houses across the UK, Australia and Scandinavia. Tickets for his current six-week west end residency at London's Apollo theatre are without doubt the hottest in town. For all those who have not been lucky enough to secure seats to see this master of comedy there is finally the opportunity to see what all the fuss is about when the live DVD becomes available to buy and own on DVD from Nov 23rd.
'What It is'
was recorded Live in Australia during Dylan's recent sell out visit. It shows exactly why Moran star of
Black Books
,
Shaun of the Dead
,
Run Fat Boy Run
and
A Film With Me In It
is one of this country's greatest stand up's. Against the backdrop of The Sydney State theatre
Dylan
stumbles onto the stage, picks up his audience and sweeps them away on a nicotine -stained cloud. This hedonistic trip through a series of wonderfully emotive and poetic observations is a bittersweet journey, a journey, where pain and pleasure, collide, dreams curdle and potential disappears over a warped horizon.
'What it is'
will leave you breathless, crying with laughter and nursing the sweetest of hangovers …
Dylan Moran's
stand up shows have sold out across the world. From New York and LA through Europe and onto Australasia,
Monster I
,
Monster II
and
Like Totally
have cemented this unkempt wordsmith's reputation as one of the foremost comics of his generation. Likened to
Dave Allen
and labeled
'The Oscar Wilde of Comedy'
Dylan
is unpredictable, bizarre, elegiac, often cruel but above all painfully funny.
Moran
sees through the joys and disappointments of human existence with the sensibility and intense perception of a man teetering on the edge. He chews life up and spits it out stamping it into the pavement as he goes
. 'He's one of a kind".
The Daily Telegraph
What the critics have said about 'What it is': 
****"You can't fault his perfect phrase-making...curmudgeonliness towards absurdity"
Brian Logan - The guardian
****"It didn't falter for a moment. This is stand-up comedy of the first order... there's scarcely a word wasted... Seriously good fun".
Dominic Maxwell - The Times
**** "As he hurtles towards middle age his curmudgeonly schtick is sharper, more focused and more resonant than ever. At 37 going on 73, the shambling Irishman could be entering his golden age"
Bruce Dessau - Evening Standard
***** "Not to be missed"
Ben Wardle - The London Paper
**** "Moran hasn't got any happier and long may it last"
Sharon Lougher - Metro
**** "Characteristically broad and absurd brush strokes… a series of sumptuous images"
Julian Hall - The Independent
***** "Jokes as sharp as barbed wire and a comedy brain quicker than a steel trap… Rarely have the rafters of the Playhouse shook so dangerously to the sound of laughter."- The Scotsman 
"A masterclass in standup… We should be grateful to be allowed to watch him at work"
Tom Chivers - Telegraph.co.uk