Ah! My Goddess: Series 2 - Flights of Fancy Part 2 (2 Discs)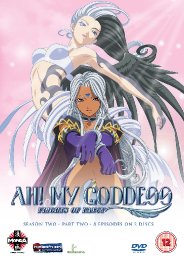 Episodes 9 - 16
Certificate: 12
Running Time: 194 mins
Retail Price: £19.99
Release Date: 2010
Content Type: TV Series
Synopsis:
The Goddesses Go Head to Head on a Date!

Keiichi grants Peorth's wish for a date. Of course, the Fourth Goddess has some "extra fun" planned. Too bad the other three goddesses tag along for the ride. As Peorth continues to vie for Keiichi's affections he decides to confront her and ends up having to make a wish: for his desires to be fulfilled, but by who? Meanwhile, Otaki and Tamiya suddenly announce that they have to hide, it seems that someone that scares even them is coming for a visit. That someone is the founder of the Motor Club, Chihiro Fujimi, who challenges Keiichi to a race.

Love triangles, the accidental birth of a new Goddess and a communal bath house trip! Just another average day in the life of mild-mannered student Keiichi Morisato and his harem of heavenly delights!
Special Features:
Audio Commentary with Veronica Taylor & Dan Green
Audio Commentary with Annice Moriarty & Vibe Jones
Textless Opening & Closing Songs
Production Artwork

Video Tracks:
1.78:1 anamorphic widescreen

Audio Tracks:
Dolby Digital 2.0 Stereo English
Dolby Digital 2.0 Stereo Japanese

Subtitle Tracks:
English

Directed By:
Hiroaki Gohda

Written By:
Kousuke Fujishima

Starring:
Aya Hisakawa
Kikuko Inoue
Masami Kikuchi
Yumi Touma
Gara Takashima
Rei Sakuma
Urara Takano
Annice Moriarty
Drew Aaron
Eileen Stevens
Vibe Jones
Alissa Brodsky
Juliet Cesario
Lucy Todd

Music From:
Shiroh Hamaguchi

Director of Photography:
Hidetake Nakajima

Distributor:
Manga Entertainment