Ah! My Goddess: Series 2 - Flights of Fancy Part 3 (2 Discs)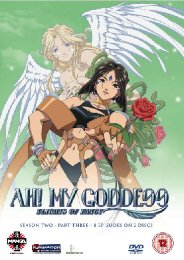 Episodes 17 - 24
Certificate: 12
Running Time: 194 mins
Retail Price: £19.99
Release Date: 2010
Content Type: TV Series
Synopsis:
Everyone has a destiny!

Trouble arises when Urd's demon and goddess halves split. Urd's goddess and demon halves are now in the same body as different personalities with one side becoming dominant and the other disappearing. With her demon half slowly losing her memories, Urd does the only thing she can: place a call to her estranged mother. However, asking a favour from the Great Demon Leader (Daimakaicho) Hild has a price. Hild pays Marller a visit. Desperate to show results, Marller decides to use her secret weapon: an Arabian lamp that can seal away whoever puts their mouth on the spout. Unimpressed, Hild adds a spell that will make whoever is looking at it see that thing which he or she finds the cutest and proceeds to use it against the goddesses.

The final 8 episodes of the hit anime series collected her for the first time on 2 discs. Heavenly!
Special Features:
Audio Commentary with Alyssa Brodsky & Kevin Collins
Audio Commentary with Mario Diraison & Michael Sinterniklaas
Textless Opening & Closing Songs

Video Tracks:
1.78:1 anamorphic widescreen

Audio Tracks:
Dolby Digital 2.0 Stereo English
Dolby Digital 2.0 Stereo Japanese

Subtitle Tracks:
English

Directed By:
Hiroaki Gohda

Written By:
Kousuke Fujishima

Starring:
Aya Hisakawa
Kikuko Inoue
Masami Kikuchi
Yumi Touma
Gara Takashima
Rei Sakuma
Urara Takano
Annice Moriarty
Drew Aaron
Eileen Stevens
Vibe Jones
Alissa Brodsky
Juliet Cesario
Lucy Todd

Music From:
Shiroh Hamaguchi

Director of Photography:
Hidetake Nakajima

Distributor:
Manga Entertainment