Ah! My Goddess: Series 2 - Flights of Fancy Part 1 (2 Discs)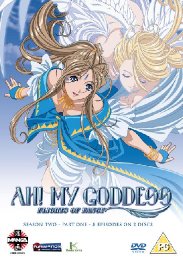 Episodes 1 - 8
Certificate: PG
Running Time: 194 mins
Retail Price: £19.99
Release Date: 2010
Content Type: TV Series
Synopsis:
It's been almost a year since the Goddess Belldandy came to live with college student Keiichi Morisato, and he's almost gotten up the nerve to kiss her. Unfortunately, the encounter with the Lord of Terror damaged some of Yggdrasil's systems, and the contract binding Belldandy and Keiichi is among the lost data.

The lovebirds can only hope the information can be retrieved before the Almighty One orders Belldandy back to Heaven. Naturally Skuld and Urd try to help, but it might be better if they didn't. Then, with Christmas at hand, Keiichi works himself to the bone to buy a present, and the rivalry with Sayoko may have driven Belldandy to drink?!

What happens when a Goddess is (literally) drunk with power? Find out what happens next in Ah! My Goddess, Season Two.
Special Features:
Audio Commentaries with the English cast (Episodes 1 & 7)
Clean opening & closing animation
Production artwork

Video Tracks:
1.78:1 anamorphic widescreen

Audio Tracks:
Dolby Digital 2.0 Stereo English
Dolby Digital 2.0 Stereo Japanese

Subtitle Tracks:
English

Directed By:
Hiroaki Gohda

Written By:
Kousuke Fujishima

Starring:
Aya Hisakawa
Kikuko Inoue
Masami Kikuchi
Yumi Touma
Gara Takashima
Rei Sakuma
Urara Takano
Annice Moriarty
Drew Aaron
Eileen Stevens
Vibe Jones
Alissa Brodsky
Juliet Cesario
Lucy Todd

Music From:
Shiroh Hamaguchi

Director of Photography:
Hidetake Nakajima

Distributor:
Manga Entertainment