Oh My Goddess! Volume 2 (UK)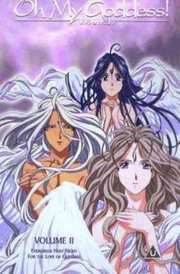 Two episodes
Certificate: U
Running Time: 68 mins
Retail Price: £19.99
Release Date:
Content Type: TV Series
Synopsis:
Evergreen Holy Night:
Keiichi`s life seems to be getting back to normal. Or at least as normal as life can be when you live in a temple with 3 goddesses! Yes, he does get strange dreams and yes, Urd and Skuld are a pain but what the heck - his girlfriend is truly divine!
Alas, System Bugs are escaping from the Heavens, upsetting the balance of the Earthly Plane. Skuld is on the case and soon discovers that whenever Keiichi and Belldandy get close, a Bug exhaust port is formed. Things don`t improve when Belldandy gets a Recall Notice from the Lord: she has to go back or else!

For The Love Of A Goddess:
With a goddess for a girlfriend, you`d think Keiichi`s life would be Heaven. In fact, it`s beginning to resemble that other otherworldy address for when he tries to even get close to his girl System Bugs escape onto the Earthly Plane and foul up the works. Worse still, the Lord has demanded that in just two days Belldandy must return home to Heaven.
As the clock ticks away, Belldandy must begin to erase herself from Keiichi`s life and memory. And Keiichi? He`s busy working his fingers to the bone so he can afford to buy a ring worthy of a goddess, a ring to fulfill a promise that Keiichi can`t remember making!
Special Features:
Playback Film With U.S. Voice Actors Commentary
Playback Film With Music & Effects Only w/Sub-titles (Silent Music Style!)
Dub Your Own `Oh My Goddess!
Slideshow Featuring Production Cels and Slides
Uncaptioned Music Clips From Opening and Closing Songs

Video Tracks:
Standard 1.33:1

Audio Tracks:
Dolby Digital Stereo 2.0 Japanese
Dolby Digital Stereo 2.0 English

Subtitle Tracks:
English

Directed By:
Hiroaki Gôda

Written By:
Kôsuke Fujishima
Naoko Hasegawa

Starring:
Kikuko Inoue
Masami Kikuchi
Yumi Tôma
Aya Hisakawa
Yuriko Fuchizaki

Director of Photography:
Kazuhiro Konishi

Producer:
Takao Asaka
Toru Miura
Yoshimasa Mizuo
Hiroo Takimoto

Executive Producer:
Teruo Miyahara
Masaaki Sekine
Masanori Tazawa

Distributor:
MVM