Manga Entertainment releasing Terra-Formars on DVD and Blu-ray on August 31st 2015
It's been something of a fallow winter for Manga Entertainment, but with the recent announcement of the Dragon Ball Kai licence, and the Chunibyo distribution deal, it looks as if Manga are getting back into gear. Today comes the press release for another new licence from them, and just the kind of sci-fi anime that piques my interest. The press release text follows...


Terra Formars Part 1 (of 2) - Manga Entertainment UK
Coming to DVD and Blu-ray on August 31st.
We are delighted to announce the release of Terra Formars Part 1 (of 2)!
From the Co-Director and Key Animator of the hit series
Steins;Gate
comes this epic sci-fi adventure packed full of high-octane action and adrenaline fuelled storylines.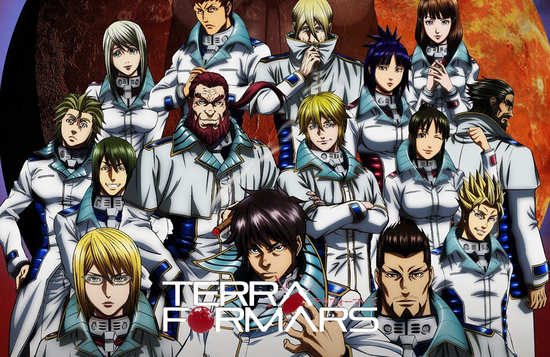 A virus has spread around the world and humanity's only hope is placed in the crew of Annex #1, as they travel to Mars to inspect the effects of the Terra Forming project which begun thousands of years ago. The Project involved using moss, a plant that is very resilient and can grow in almost any environment, alongside a bug with equal qualities – Cockroaches. Their goal is to obtain samples of the resident cockroaches in the hope of finding a cure to the virus. Unfortunately those resilient insects have mutated into giant, aggressive humanoids with one overriding goal: exterminate the humans!