Series 7 and 8 of Birds of a Feather arrive on DVD in March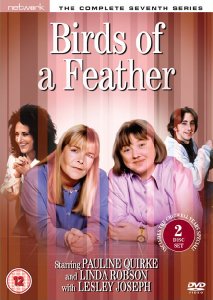 BIRDS OF A FEATHER SERIES 7 & 8
(12) & (12)
Everyone's favourite Essex girls return with the DVD releases of

Birds of a Feather Series 7

and

Series 8

- one of the 1990s' most successful, long-running and memorable sitcoms which was broadcast on BBC1. Both series are available respectively from all good retailers for £19.99 and £19.99 on 7th March 2011, complete and uncut.
Created by the legendary comedy duo Laurence Marks and Maurice Gran (
The New Statesman
,
Shine on Harvey Moon
), the series chronicles the misadventures of Sharon and Tracey Stubbs (Pauline Quirke and Linda Robson) - two sisters left to fend for themselves, both financially and emotionally, when their husbands are jailed for armed robbery.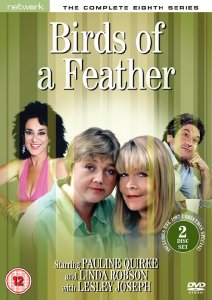 The girls lived very different lives. Tracey enjoys the trappings of the neo-Georgian splendour of 'Dalentrace' - the luxury home paid for by husband Darryl's criminal activities - while her sister remained on an Edmonton council estate. Now, Sharon has moved in with Tracey to enjoy a few home comforts and offer moral support - even if some of her habits prove a tad annoying. And if life in Chigwell sometimes seems a little dull, there are always the extra-marital antics of their man-eating Jewish neighbour, Dorien (Lesley Joseph), to keep them entertained…
***ENDS***
NOTES TO EDITORS
BIRDS OF A FEATHER SERIES 7 & 8 (12) & (12) are both available to buy from Network DVD
Release Date: 7th March 2011
RRP:
£19.99 and £19.99 respectively
Discs:
2 & 2
Running Time:
360 minutes (approximately) and 240 minutes respectively
Screen Ratio:
1.33:1/colour
Cat. No.: 7953504 and 7953505
Series 7 disc One:
Special: The Chigwell Year, Stand By Your Man, Nearest and Dearest, Cheers, Relative Strangers, Porridge
Disc Two:
Rising Damp, Three Up, Two Down, Are You Being Served?, Never the Twain, Three's Company
Series 8:
Christmas Special: Reservoir Birds, Trouble and Strife, The Essex Patient, Maids of Ongar, Baggage, Can't Judge a Book, Money