Oh sweetie darling it's Ab Fab at 20 this July on DVD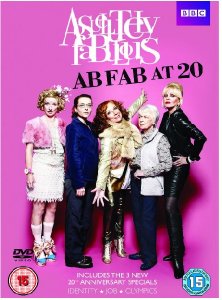 Some comedies deserve a revisit, and TV comedy
Absolutely Fabulous
is one of them, and twenty years after the first series debut, Eddy and Patsy return in
Absolutely Fabulous:
Ab Fab at 20
thanks to
BBC Worldwide
.
With a runtime of 90 minutes, and a recommended retail price of £15.31, extras will include the
Absolutely Fabulous Sport Relief Special
and a behind-the-scenes featurette of the aforementioned charity piece.
Starring Jennifer Saunders, Joanna Lumley, Julia Sawalha, Jane Horrocks and June Whitfield, guest stars include Stella McCartney, Emma Bunton, Lulu, Lindsay Duncan, Mo Gaffney and Lucy Montgomery.
Synopsis is as follows...
Behaving as outrageously as ever! 20 years after Eddy, Patsy, Saffy, Bubble and Mother first staggered into our lives, they return for three fantastic episodes Patsy might be hiding a few more wrinkles, Eddy's designer outfits are a size (or three) bigger, but the ageing fashionistas have lost none of their appetite for living it large, regardless of how ridiculous they look.
In these hysterical episodes, Saffy's new best friend forces Patsy to finally reveal her age - to the nearest decade or two; Eddy signs up a legendary French actress for an Albert Hall performance, but can she sing? And, as London goes Olympics mad, someone rather important (Hollywood, darling) rents the house as the ladies undertake some gold medal schmoozing.