Crime drama Luther: Series 3 comes to DVD in July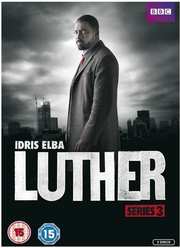 Crime dramas are two a penny, but every now and again TV at least tries to break the mold. Which leads us to the fact that
BBC Worldwide
have the DVD release of
Luther: Series 3
out on 29th July.
This of course stars Idris Elba in the title role, and also features Ruth Wilson, Warren Brown and Steven Mackintosh. The recommended retail price will be £20.42, whilst a box set containing all three series will be out the same day with an RRP of £30.63.
Synopsis and trailer follow...
This series sees a twisted fetishist targeting young women in London. Luther is convinced the man will strike again, but when the detective is ordered to investigate another case, the chances of catching the killer start to fall. Luther's biggest threat could be closer to home, when it emerges that his own colleagues are willing to break every rule in the book to bring him down...
Elsewhere it looks like Luther might have finally found love again, but is he ready to leave his past behind? Finally, when a vigilante killer embarks on a crusade to punish criminals, Luther is forced to confront his own sense of mortality. Can he walk the line between right and wrong and do his job or has he finally met his match?