ITV Comedy from the Eighties out on DVD this July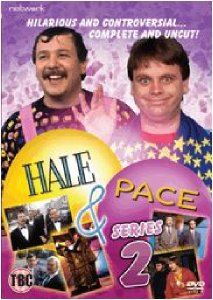 Not one but two releases from
Network DVD
to look forward to next month. Both out on 2nd July, and both digitally remastered in High Definition! Okay that was a joke, probably one funny enough to be in one of these series, but let's not digress or judge too much.
First up, with a recommended retail price of £12.99, is
Hale and Pace: The Complete Second Series
, featuring 150 minutes of the comedy duo of Gareth Hale and Norman Pace.
Characters include the Two Rons, Billy and Johnny, Jed and Dave, Wheelbarrow and Bibbler, Stubble and Crockery and others in this award winning series, complete and uncut. Though quite what was cut prior to transmission escapes us at the moment, perhaps they are referring to the controversial cat and the microwave sketch.
This complete second series sees Gareth and Norman visiting a centre for Guide Cats, lifting the lid on Moroccan cuisine, displaying their beer guts and finding out whether the American doughnut-and-hamburger diet really works. We also catch up with the Two Rons, the legendary tuxedoed heavies, later to enjoy fame on their own terms in The Management. This series also features the kids' TV presenters Billy and Johnny, who find themselves at an Acid House party.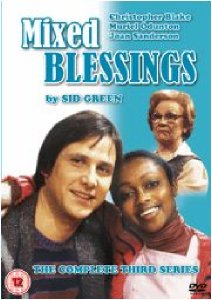 Next up we have
Mixed Blessings: The Complete Third Series
, a sitcom created and written by Sid Green, and starring Christopher Blake and Muriel Odunton as a mixed-race couple struggling to placate their disapproving and constantly bickering families. With a run time of 225 minutes, the recommended retail price for this one will be £19.99.
Graduates Thomas Simpson and Susan Lambert are young lovers who are about to embark on married life. But their happiness is tempered by a deep trepidation. Social worker Susan is black, and out-of-work engineer Christopher is white… and breaking the news of the marriage to their respective families is only the beginning of their problems!
Exasperated by the anxieties of both sets of in-laws, the newlyweds decide to take up an offer of accommodation from Christopher's sympathetic aunt, Dorothy - the only relative who believes the marriage will actually work...