New BBC sitcom The Job Lot comes to DVD in June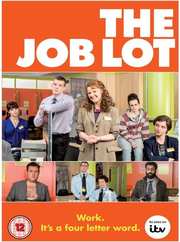 Yes, I know, we said more tomorrow and then we did two tomorrows and posted something different, sorry! Anyway, here as promised is another
BBC Worldwide
title arriving in June,
The Job Lot
turns up on the 17th.
A new situation comedy screened on
ITV
, this stars Sarah Hadland
,
Russell Tovey and Sophie McShera. With 180 minutes spread across six episodes, the recommended retail price will be £20.42.
Synopsis and trailer follow...
Set in a job centre where the staff attempt, with varying degrees of enthusiasm and success, to help people find work, it's full of laugh out loud moments that will be so familiar to anyone who has ever worked in an office.
Neurotic manager Trish runs the centre, aided by a mixed bag of staff including a reluctant Karl, the less than helpful Angela and two uniquely skilled security guards, all dealing with customers who don't always appreciate their efforts.