Not On Your Nellie - The Complete Series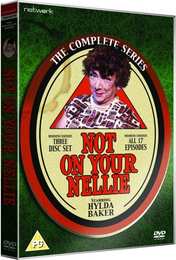 Certificate: PG
Running Time: 425 Minutes
Retail Price:
Release Date: 23/01/2016
Content Type: TV Series
Synopsis:

Nearest and Dearest
Not On Your Nellie
– one of the major comedy successes of the 1970s. When blunt Northerner Nellie Pickersgill (Hylda Baker) is summoned down to London to look after her ailing father she isn't expecting to have to look after his pub as well – it's not the ideal situation for a teetotaller who can't abide drinkers!
This set contains all three series, the last of which was cut short to just four episodes when Hylda Baker broke her ankle during recording.
Special Features:
Nearest and Dearest: Far from the Madding Pong
A bonus episode of the hit predecessor to Not on Your Nellie, starring Hylda Baker with Jimmy Jewell.

Video Tracks:
1.33:1 / Colour

Audio Tracks:
Mono English

Directed By:
Bryan Izzard

Written By:
Roy Bottomley
Tom Brennand

Starring:
Hylda Baker
Leo Dolan
Roger Howlett
David Rayner
John Barrett

Music From:
Denis King

Director of Photography:
Martin Brierley

Producer:
Bryan Izzard

Distributor:
Network Distribution