Peep Show Series 6 & 1-6 Boxset out in November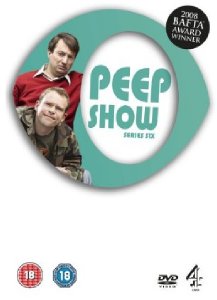 Released by 4DVD on Monday 2nd November 2009
"No question, the best sitcom on telly"
- Daily Mirror
"The consistently brilliant sitcom returns" -
The Guardian  
"This splendid, grubby sitcom goes from strength to strength"
- Mail on Sunday
"Finally, a Friday night comedy worth staying in for"
- Sunday Telegraph
The multi award-winning and a critically acclaimed comedy series is back and continues on from the previous series following the dynamic duo in their unpredictable world.
Peep Show series 6
and the
1-6 boxset
are both available to own on
Monday 2nd November 2009
exclusively by
4DVD
. 
Peep Show
features Mark (David Mitchell) and Jeremy (Robert Webb), two flat-mates living in south London. Mark is a credit manager and the more financially successful of the two, often pessimistic about life and anything to do with Jeremy's next big 'idea'. Jeremy rents Mark's spare room and usually has a much more optimistic and energetic outlook on the world than Mark. His self-proclaimed talent as a musician is yet to be recognised, and he is seen as a lazy waster with dodgy friends and not as popular or attractive as he would like to think himself. 
In series 6 Mark and Jeremy are still sharing a flat in post-credit crunch Croydon while there is a whiff of desperation surrounding them. Having discovered that Sophie (Olivia Colman) is pregnant they have to face up to the possibility that either one of them might be a father. How will this effect Mark's pursuit of Dobby (Isy Suttie)? And will it help or hinder Jeremy as he falls for his dream woman, dope-dealing-musician-activist Elena (Vera Filatova)? 
The series also sees Super Hans become a man with a van and Jeremy owns up to watching porn to save a friend from humiliation at work by taking a 'w*** bullet'. Whilst Mark discovers the truth about what it is like to work closely with Johnson (Paterson Joseph), the boss he worships. 
The eagerly anticipated series 6 of the original and satirical sitcom is released on 2nd November (RRP £19.99) in tandem with the
Peep Show 1 - 6 Boxset
(RRP £59.99).  An absolute must for fans of the show and a great addition to any DVD collection, the box set features all six series in their entirety plus all additional extras and bonus material. 
Peep show is renowned for its unique formatting twist as it uses first person view point, where viewers get to see things through the characters own eyes plus hear their deepest, darkest thoughts and feelings as they try to find their place in the modern world. 
Extras on the DVD include an exclusive
behind the scenes
glimpses from those involved in Peep Show and
cast interviews
.  The must see for any fans of the series, an animation feature on  '
how Peep show is made'
and deleted scenes from series 6. 
Peep Show series 1 - 6 is written by Jesse Armstrong and Sam Bain (series 6 episode 3 by Simon Blackwell). Phil Clarke (
Big Train, Brass Eye
) is the producer for series one, two and six and the series producer for three and four. Series three and four were produced by Robert Popper (
The Timewaster Diary, Timewaster Letter Series, Look Around You
) and series five was produced by Izzy Mant. Becky Martin directed series four; five and six, Jeremy Wooding directed series one and Tristam Shapeero series two and three.