The Family is out in November
Released exclusively by 4DVD on Monday 2nd November 2009
First screened on Channel 4 last year,
The Family
is a refreshing observational documentary series lifting the lid on family dynamics and revealing an intimate portrait of life in Britain today. 
The Family
is available to own on
DVD
from
Monday 2nd November
, courtesy of
4DVD
priced at £19.99.
The Hughes family, from Canterbury in Kent, agreed to be filmed around the clock, offering a unique insight into our most cherished social institution.   Across almost four months,
The Family
chronicles the inner workings of British domesticity, following the highs and lows of every aspect of family life.   They're a loving, vibrant and often fiery family dealing with everyday situations and challenges that people across the nation will be able to relate to.
The Family
documents the lives of dad Simon, mum Jane, daughters Jessica, Emily, Charlotte and son Tom.
Directed by BAFTA-winning Jonathan Smith,
The Family
was filmed over 100 days and nights, and couples traditional observational documentary filmmaking techniques with purpose-built camera technology. Twenty one cameras were fitted in the Hughes' semi-detached house while the house next door was converted into a production gallery.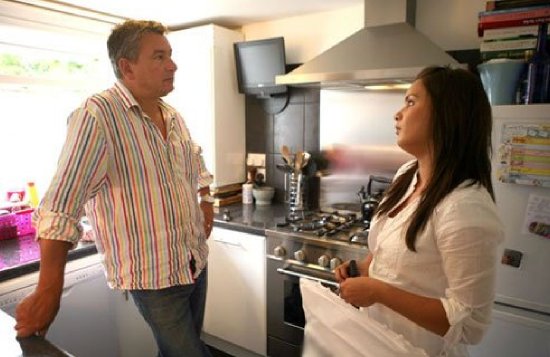 Dad Simon, 44, describes his role within the family as "cook, taxi, painter and decorator, encourager, the default person to ask anything, provider, giver of cuddles and the one who has to pretend to be in charge." His wife of 22 years, Jane, 40, works for a charity. Jane defines her responsibilities as "peacekeeper, general dogsbody and keeper of all knowledge of where people have to be and where their belongings are." Jane and Simon recently became grandparents.
A frequent visitor to the house is eldest daughter and stay-at-home mum Jessica, 22, who lives nearby with her fiancé Pat Lee and their 10-month-old daughter Ruby. She describes the dynamics of her family as "loving, close, loud and food obsessed". The series will conclude with Jessica and Pat's wedding.
Headstrong rebel Emily, 19, sees herself as the family troublemaker and party animal. She works in sales and cites her mum as her biggest inspiration. Youngest daughter Charlotte, 17, is still at school and was once the district shot-put champion for girls under 14. She defines her role as "someone to lighten the mood" and proclaims that "it's never boring having a big family." Fourteen-year-old Tom completes the Hughes clan and cites his biggest inspiration as Batman.
From arguments over bedtimes and curfews, to stressful wedding plans and work issues,
The Family
captures the challenges faced every day by people up and down the country. The fly-on-the-wall series follows the family as they cope with everything that life throws at them, their day-to-day activities and the trials and tribulations involved in getting everyone round the dinner table at the same time.
The predicaments they face, the choices they make and challenges of family dynamics and communication they meet will be familiar to millions. 
The DVD will also feature a host of extras including the one-off
Christmas Special
telling the story of a funny, emotional and sometimes tense period, as the whole Hughes family come together to celebrate. 
In addition to the bonus episode, other extras include:
Auditions

Family Interviews

Behind The Scenes features

Interview with director Jonathan Smith
The Family is available to own on DVD on
Monday 2nd November 2009
The Family:


Release date:                                     
Monday 2nd November 2009
Disc:                                                      
2 discs
Main Feature Running time:            
382 mins approx.
Extras Running time:
                           84 mins approx
Cert:                                                      
12
RRP:                                                      
£19.99
Cat No
:                                                  C4DVD10288