Skins Series 4 arrives on DVD in March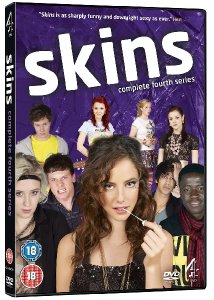 Skins - Series 4 and Skins Series 1-4 Boxset
Released exclusively by 4DVD on Monday 22nd March 2009
"The best British teen drama for years"
Guardian
"This is TV at its best… feisty, polarising and compelling"
The Times
"Funny, pacy and authentic"
Daily Mirror
"The most exciting TV show in a generation"
NME
The critically-acclaimed and multi BAFTA award-winning drama,
Skins
,
returns for a fourth series available to own on DVD from
Monday 22nd March 2010
, with the
Series 1-4 Box Set
released on the same date by 4DVD.
The 
Skins
gang is back at College after the summer break. Their hedonism knows no bounds as they live life to the ethos of no consequences, no tomorrow and you can all live forever. 
Their care-free bubble abruptly bursts when a near-stranger needlessly dies, sending a shockwave through the entire group. The tragedy leaves
THOMAS
 (Merveille Lukeba) questioning everything - his faith, his family and even his choice of friends.  The reverberations will reach far beyond Thomas's story, affecting the lives of all those we know around him.
EFFY
(Kaya Scodelario) returns - no longer with her queen-bee status, and still struggling to deal with her family issues. Her best friend,
PANDORA
(Lisa Backwell), is back adorable and kooky as ever. Twins
KATIE
(Megan Prescott) and
EMILY
(Kathryn Prescott) are visibly different - after leaving her sister's shadow Emily is head over heels in love, but while she's finding out what life is really like, Katie is left behind in a family meltdown. 
NAOMI
(Lily Loveless) seems to have more to hide this series; while
JJ
(Ollie Barbieri) finally realises what love is. Meanwhile
COOK
(Jack O'Connell) is trying to simultaneously exorcise his demons and not reveal his weaknesses, and
FREDDIE
(Luke Pasqualino) finds out that love can lead you to the edge of sanity. 
Series four will continue with guest appearances from
Morwenna Banks
as Anthea Stonem and
Ronni Anconna
as Jenna Fitch, alongside new guest artists including
Chris Addison
,
Tanya Franks
,
Paul Kaye
,
Pauline Quirke
,
Simon Day
,
Dudley Sutton
,
Hugo Speer
,
Jenny Eclair
, and
Will Young
. 
The eight new episodes are written by a young British writing team, and are headed up by Executive Producer Bryan Elsley, Producer John Griffin and series directors Neil Biswas, Daniel O'Hara, Phillippa Langdale, and Esther May Campbell. 
The series 4 DVD is packed with extra features including bonus Skins stories, an animated feature, behind the scenes videos, and commentaries with the writers and directors. 
S4 Details
Running time: TBC
Cert: TBC
Format: 3 discs
RRP: £24.99 
S1-4 Details
Running time: TBC
Cert: 18
Format: 12 discs
RRP: £59.99  
Extras
Bonus Skins stories
Animated feature
Behind the scenes videos
Commentaries with writers and directors