Jack Black in Year One out this November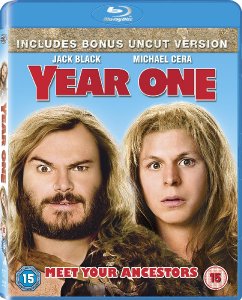 Jack Black and Michael Cera Star in the Hilarious New Comedy
From the Director of
Caddyshack
and
Groundhog Day
Year One
Witness the Evolution of Comedy!
Available on Blu-ray™ High-Def and DVD on 2 November, 2009
On 2 November, 2009, Sony Pictures Home Entertainment invites you to witness the evolution of comedy as the hilarious
YEAR ONE
arrives on Blu-ray and DVD. Created by comedy legend Harold Ramis (
Caddyshack
,
Groundhog Day
),
YEAR ONE
stars Jack Black (
Nacho Libre, Tropic Thunder
) and Michael Cera (
Juno, Superbad
) as an unlikely duo of primitive men who, after being exiled from their tribe, set out on a laugh-out-loud journey through the ancient world. Along the way, they encounter a host of famous historical figures played by a tribe of film comedy's best, including Hank Azaria (
Night at the Museum 2
), David Cross (TV's "
Arrested Development
"), Christopher Mintz-Plasse (
Superbad
), Oliver Platt (
2012, Frost/Nixon
), Paul Rudd (
I Love You, Man
) and Horatio Sanz (TV's "
Saturday Night Live
"). Trust us, history has never been this crude, rude or historically funny!
Now,
YEAR ONE
journeys from the ancient world onto Blu-ray and DVD, which include both the original theatrical version of the film and an all-new Uncut Version with even more irreverently funny footage not shown in cinemas, plus cool bonus features like deleted scenes, extended and alternate scenes, an alternate ending, Line-o-Rama, gag reel, audio commentary with director Harold Ramis, Jack Black and Micheal Cera, the making-of featurettes "
Year One
: The Journey Begins," "Sodom's Got'em" and "Leeroy Jenkins: The Gates of Sodom," and more!
Exclusive to the Blu-ray Disc™ of
YEAR ONE
are the highly evolved special features "
Year One
Cutting Room," which lets viewers create their own video using clips and music from the film, and share it on BD-Live™.
YEAR ONE
also includes the newest BD-Live feature from Sony Pictures:
movie
IQ, which lets viewers access real-time trivia information about
YEAR ONE's
cast, crew, music and production, all while watching the movie (powered by Gracenote). The Blu-ray version also features cine
chat
, which allows movie watchers to send on-screen instant messages to friends around the world while watching the movie and, finally, a Digital Copy for playback on PC, PSP®, Mac or iPod.
YEAR ONE
is priced at £24.99 RRP (Blu-ray), £19.99 (DVD) and £12.99 (PSP). Whether you're a hunter or gatherer of great movie comedies, be sure and drag
YEAR ONE
back to your cave for historical and
hysterical
laughs!
Synopsis
History was made...by these guys? Zed (Jack Black) and Oh (Michael Cera) are cavemen who stumble out of the mountains into an epic journey of biblical proportions. One's a bumbling hunter, the other's a gentle gatherer; together, they become unlikely participants in history's most pivotal moments. Directed and co-written by comedy legend Harold Ramis (
Groundhog Day, Caddyshack, Analyze This
),
YEAR ONE
is rude, crude, wildly absurd, deliciously tasteless and laugh-out-loud funny!
YEAR ONE
was written by Harold Ramis and the writing team of Gene Stupnitsky & Lee Eisenberg (upcoming
Ghostbusters 3
, US TV's "The Office"). Its cast also features Olivia Wilde (TV's "House M.D.") and Vinnie Jones (
X Men: The Last Stand
).
Bonus Material Included on All Versions
Both Theatrical and Uncut Versions of the Film
2 Deleted Scenes
Commentary with Director Harold Ramis, Jack Black and Michael Cera
10 Extended and Alternate Scenes
Line-o-Rama
Gag Reel
"

Year One

: The Journey Begins" Featurette
Blu-ray Exclusive Bonus Material
Alternate Ending: Sodom's Destruction
"Sodom's Got'em" Featurette
"Leeroy Jenkins: The Gates of Sodom" Featurette

Year One

Cutting Room: Create your own video and share it via BD-Live! (A Blu-ray first)
cine

chat

: Send on-screen instant messages to your friends around the world while you watch the movie together

movie

IQ: Real-time in-movie information about the cast, crew, music and production via BD-Live (Domestic Only)
A Digital Copy of the film for PC, PSP®, Mac or iPod