Microcosmos: Special Edition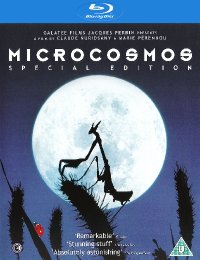 Le peuple de l'herbe
Certificate: U
Running Time: 75
Retail Price: £19.99
Release Date: 07/12/2009
Content Type: Movie
Synopsis:
A French meadow on a summer's day is the setting for this incredible, highly-acclaimed film that takes its' microscopic cameras into the heart of the insect world.

In this miniature environment where a single raindrop can cause havoc, we are treated to an array of jaw-dropping moments: an underwater spider makes a home out of an air bubble, a colony of ants face a massacre when a pheasant attacks and a determined Beetle struggles to relocate his ball of dung..

There's drama, comedy, action and even a little love in this astonishing film that invites us to share the trials and tribulations of its wonderful cast.
Special Features:
- The World of Microcosmos
- The Making of Microcosmos
- The Story of 5 Cesars

Video Tracks:
1080p Widescreen 1.66:1

Audio Tracks:
LPCM 2.0 Stereo English
Dolby Digital 5.1 Surround English
DTS 5.1 Surround English

Directed By:
Claude Nuridsany
Marie Pérennou

Starring:
Kristin Scott-Thomas

Soundtrack By:
Bruno Coulais

Director of Photography:
Claude Nuridsany
Marie Pérennou
Hugues Ryffel
Thierry Machado

Editor:
Marie-Josèphe Yoyotte
Florence Ricard

Producer:
Jacques Perrin
Christophe Barratier
Yvette Mallet

Executive Producer:
Patrick Lancelot
Michel Fauré
Philippe Gautier
André Lazare

Distributor:
Second Sight