We Live in Public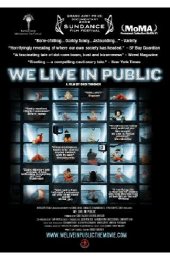 Certificate: E
Running Time: 90min
Retail Price: 14.99
Release Date: 22nd March
Content Type: Movie
Synopsis:
On the 40th anniversary of the creation of the Internet, WE LIVE IN PUBLIC tells the story of the effect the web is having on our society, as seen through the eyes of "the greatest Internet pioneer you've never heard of," visionary Josh Harris. Award-winning director, Ondi Timoner (DIG!), documented his tumultuous life for more than a decade to create a riveting, cautionary tale of what to expect as the virtual world inevitably takes control of our lives.

WE LIVE IN PUBLIC made a huge impact on its theatrical release, and garnered the prestigious Grand Jury Prize at Sundance, making director Timoner the only two-time winner (after her previous award for DIG!). Now this outstanding documentary makes its way to DVD on 1 March 2010 courtesy of Dogwoof.

Josh Harris, often called the "Warhol of the Web," founded Pseudo.com, the first Internet television network during the infamous dot-com boom of the 1990s. He also created his vision of the future: "Quiet" an underground bunker in NYC where 100 people lived together on camera for 30 days at the turn of the millennium. With Quiet, Harris proved how, in the not-so-distant future of life online, we will willingly trade our privacy for the connection and recognition we all deeply desire. Through his experiments, including another six-month stint living under 24-hour live surveillance online which led him to mental collapse, he demonstrated the price we will all pay for living in public.

WE LIVE IN PUBLIC is an outstanding documentary about the virtual world as well as being a fascinating character study of a visionary who may be a genius or a mad man.
Special Features:
Josh Harris audio commentary

Ondi Timoner audio commentary

Behind the Scenes: Sundance 09

We Live in Public Trailer (Original)

Making of with Ondi Timoner

Josh Commentary Video Highlights

Inside the Bunker: The Pods

Inside the Bunker: The Guns

Directed By:
Ondi Timoner

Starring:
Josh Harris

Soundtrack By:
Ben Decter

Director of Photography:
Max Heller
Vasco Nunes
Ondi Timoner

Editor:
Joshua Altman

Producer:
Keirda Bahruth
Ondi Timoner

Executive Producer:
John Battsek

Distributor:
Dogwoof Pictures