James May's Toy Stories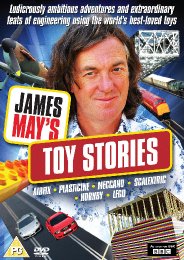 Ludicrously ambitious adventures and extraordinary feats of engineering using the world's best-loved toys
Certificate: PG
Running Time: 348
Retail Price: £19.99
Release Date: 07/12/2009
Content Type: TV Series
Synopsis:
Never one to turn down a challenge, James takes on some madcap toy adventures in a bid to get children out of their bedrooms and away from their playstations and parents re-embracing the child within.

In six toy-tastic episodes that feature extraordinary feats of engineering, James takes time out with some of Britain's best loved toys - putting generations of families at the heart of some ludicrously ambitions undertakings and reminding us all of the precious joys of creativity and quality family entertainment.

"For too long now we have regarded the great toys as mere playthings" said James. "It's time to use them to bring people together and achieve greatness. And I bet it'll be a right laugh as well."

Taking on the biggest toy challenges of all time, James attempts to build the world's first full-size house made of Lego, the world's first Plasticine garden, the world's biggest ever model plane, the world's greatest model train set, a world record beating Scalextric track, and a life-size bridge made out of Meccano; did you expect anything less from our renowned caravan stunt man?
Special Features:
• Deleted Scenes
• Interview

Video Tracks:
Anamorphic Widescreen 1.78:1

Audio Tracks:
Dolby Digital 2.0 Stereo English

Subtitle Tracks:
English HoH

Directed By:
Graham Strong

Written By:
James May
Stuart Cabb
Will Daws

Starring:
James May

Producer:
Graham Strong

Executive Producer:
Stuart Cabb
Will Daws

Distributor:
4DVD