iPlayer Beta on Freesat from 7th December
BBC iPlayer on Freesat factsheet
Wednesday 25 November 2009
Welcome to BBC iPlayer beta on Freesat
A Beta version of BBC iPlayer will be available on Freesat 7th December, offering the BBC catch up TV service for the first time on a non-subscription TV service over open internet.
During the initial stage of Beta, selected journalists and partners will be able to access the service using a code.  We hope as many Freesat viewers as possible will be able to use the service by Christmas and without the need for a code.
Watch what you want, when you want to
With BBC iPlayer on Freesat, you can catch up on your favourite BBC programmes from the last seven days or catch-up on whole series you may have missed, whenever you want and from the comfort of your sofa.
In the run up to Christmas around 450 hours of programming will be available each week, including popular programmes such as
Strictly Come Dancing, Top Gear, EastEnders, Life, Gavin and Stacey,
and
The Gruffalo
. And with the BBC's full Christmas schedule still to be announced, Freesat viewers can look forward to even more great BBC programming being available whenever they feel like watching it.
The launch of BBC iPlayer on Freesat adds to the fantastic array of programmes already available on the platform including over 140 channels, with free HD from the BBC and ITV.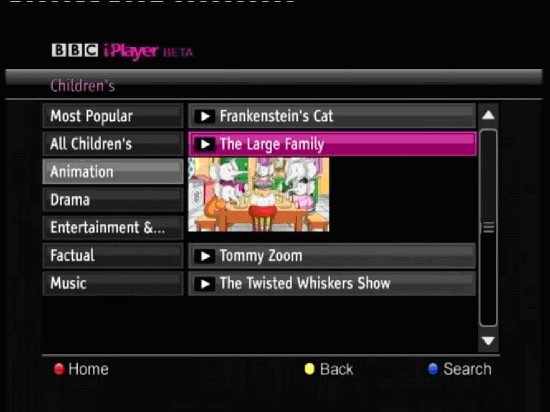 Easy set up
It's easy to set up BBC iPlayer on Freesat. Simply connect your HD Freesat TV or HD box to your broadband via the Ethernet port using an Ethernet cable or homeplug.
Alternatively, you can arrange for a professional to connect BBC iPlayer for you, either as part of full install if you have just bought Freesat or separately if you already have Freesat installed.
Viewers will need an
actual
broadband speed of 1Mbps to watch BBC iPlayer or 2Mbps to watch in high quality. Because actual speeds can vary from those advertised, it's best to first test your broadband speed. There are many ways to do this online for free using a site such as
www.mybroadbandspeed.co.uk
.
You will initially be able to access the BBC iPlayer beta service by pressing the red button to get to the BBCi menu.
Emma Scott, Freesat's managing director, comments, "We're delighted to be able to offer BBC iPlayer to our viewers. All the HD receivers that have been bought and will be sold in the run up to Christmas will deliver BBC iPlayer so there'll no need to buy any new receivers.            
There's a great schedule of programmes be available on BBC iPlayer in the lead up to Christmas with the likes of
The Gruffalo
, the
EastEnders Special
and Doctor Who
.
BBC iPlayer has been fantastically successful online so being able to offer viewers the ability to watch it in their living room on a subscription free TV service for the first time will be transformational. 
We'd like to thank the BBC for all their hard work bringing the service onto our platform."