Dead Set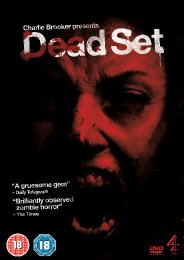 Certificate: 18
Running Time: 141
Retail Price: £19.99
Release Date: 19/10/2009
Content Type: Movie
Synopsis:
From Nathan Barley co-creator and Guardian writer Charlie Brooker comes the outrageous new thriller Dead Set, E4's first-ever horror series, released exclusively by 4DVD on 19th October 2009.
Starring Jaime Winstone (Donkey Punch, Kidulthood) Dead Set is a chilling new horror series in which the dead are returning to life and attacking the living. Curiously there are a few people left in Britain who aren't worried about any of this - that's because they're the remaining contestants in Big Brother. Cocooned in the safety of the Big Brother house, they're blissfully unaware of the horrific events unfolding in the outside world. Until an eviction night when all hell breaks loose…
Kelly (Winstone), a production runner working on a fictional series of Big Brother, finds herself trying to fend off the walking dead alongside her producer boss Patrick (Andy Nyman, Severance), boyfriend Riq (Riz Ahmed, Britz) and the remaining Big Brother housemates.
Over the ensuing days, in a cruel reflection of the game show they thought they were entering, the contestants fall victim one by one to the hungry masses outside. Staying alive requires crucial teamwork - which can be tricky when you're a group specifically selected by TV producers to wind each other up.

Featuring a range of cameo appearances from Davina McCall and several former Big Brother housemates, the series was broadcasted on E4.
Special Features:
• Davina McKill
• SFX: You've Got To Get Them In The Head
• Interview with Yann Demange
• On Set with Dead Set
• Interview with Charlie Brooker
• SFX: Head Shots
• Waste Not Want Not
• I Am Patrick, Hear Me Roar
• Army of the Dead
• SFX: Patrick gives Head

Deleted/Extended Scenes :
• 8 Out Of 10 Cats
• Pippa's Eviction
• "Fuzzy Little Balls"
• Pippa meets her maker

Related Websites:
www.deadsetcredits.com

Video Tracks:
Anamorphic Widescreen 1.78:1

Audio Tracks:
Dolby Digital 5.1 Surround English
Dolby Digital 2.0 Stereo English

Subtitle Tracks:
English HoH

Directed By:
Yann Demange

Written By:
Charlie Brooker

Starring:
Chizzy Akudolu
Shelley Conn
Raj Ghatak
Jennifer Aries
Cavan Clerkin
Drew Edwards
Elyes Gabel
Krishnan Guru-Murthy
Madra Ihegborow
Maxi Moffatt
Rachel Ogilvy
Jaime Winstone
Kyle Summercorn
Andy Nyman
Kelly Wenham
Riz Ahmed
Helen Adams
Brian Belo
Liz May Brice
Warren Brown
Paul 'Bubble' Ferguson
Beth Cordingly
Adam Deacon
Kevin Eldon
Makosi Musambasi
Kathleen McDermott
Eugene Sully
Imogen Thomas
Aisleyne Horgan-Wallace
Saskia Howard-Clarke
Marcus Bentley
Kinga Karolczak
Davina McCall
Ziggy Lichman
Pamela Kempthorne
Johnny Shingleton

Casting By:
Catherine Willis

Soundtrack By:
Dan Jones

Director of Photography:
Tat Radcliffe

Editor:
Chris Wyatt

Costume Designer:
Rebecca Hale

Distributor:
4DVD