Soul Power: The Masters of Cinema Series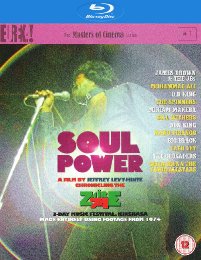 The greatest music festival that you have never seen.
Certificate: 12
Running Time: 93
Retail Price: £22.99
Release Date: 16/11/2009
Content Type: Movie
Synopsis:
Soul Power is a vérité documentary - compiled entirely from footage shot in 1974 - of the astonishing back-to-Africa 3-day music festival "Zaire '74", held in Kinshasa ahead of the biggest boxing event of all time: the Muhammad Ali-George Foreman "Rumble in the Jungle". Directed by Jeffrey Levy-Hinte, editor of Leon Gast's Oscar®-winning (Best Documentary) When We Were Kings, and sourced from the same archival pool, Soul Power features a stunning line-up of African and African-diaspora musicians.

Alongside Ali's wit and wisdom, vibrant street scenes of downtown Kinshasa, and "fly-on-the-wall" footage of the festival's staging, rehearsals, and jams, the three nights of concerts (lensed by Albert Maysles and a host of other legendary cameramen) offer electrifying performances by James Brown, B.B. King, Bill Withers, Sister Sledge, Miriam Makeba, The Spinners, Big Black, The Crusaders, Celia Cruz, and many more.

The concert has achieved mythological significance and only now, after years of painstaking restoration - legal wrangling prevented an edit and release at the time of filming - does Soul Power join the pantheon of concert film classics. The Masters of Cinema Series is proud to present Soul Power for home viewing in the UK for the very first time.
Special Features:
• New high-definition transfer of the film
• Exclusive video interview with the director, Jeffrey Levy-Hinte
• 30 minutes of deleted behind-the-scenes footage
• Extra concert performances by James Brown, Sister Sledge, the Pointer Sisters, and others
• Optional SDH subtitles for the hard of hearing
• 36-page full-colour booklet featuring archival publicity stills, a director's statement, and a compilation of reminiscences by the "Zaire '74" organisers and performers

Video Tracks:
1080p Widescreen 1.78:1

Audio Tracks:
DTS-HD Master Audio 5.1 English
Dolby TrueHD 5.1 English
Dolby Digital 2.0 Stereo English

Subtitle Tracks:
English HoH

Directed By:
Jeffrey Levy-Hinte

Starring:
Muhammad Ali
James Brown
Celia Cruz
B.B. King
Don King
Miriam Makeba
The Spinners
Bill Withers

Director of Photography:
Paul Goldsmith
Kevin Keating
Albert Maysles
Roderick Young

Editor:
David A. Smith

Producer:
Leon Gast
Jeffrey Levy-Hinte
David Sonenberg

Distributor:
Eureka Entertainment
The Masters of Cinema Series