The Complete Adrian Mole arrives on DVD this July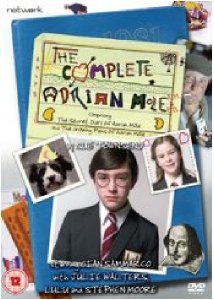 Teenagers, and to a certain extent, parents, of a certain age will remember the best selling novels by Sue Townsend featuring a certain spotty glasses wearing teenager struggling through puberty and beyond, with his only true ally being the diary in which he documents his journey.
Well,
Network DVD
are releasing
The Complete Adrian Mole
on 2nd July, the TV series versions of the popular series of books. Carrying a recommended retail price of £19.99, and a total running time of 325 minutes (which is over 5 and a half hours in old money), this should take many people back to life in the 80s.
It covers the books
The Secret Diaries of Adrian Mole
and
The Growing Pains of Adrian Mole
.
Synopsis follows...
Gian Sammarco is the angst-ridden scribbler with literary aspirations, with Julie Walters and Lulu successively portraying his mother, Beryl Reid his opinionated grandma, Stephen Moore his errant father, and Bill Fraser his elderly chum, Bert Baxter.
Adrian certainly has much to contend with! Spots erupting on his chin; 'Good Samaritan' visits to an OAP who's even more obnoxious than his dog; Barry the school bully and his extortion rackets; warring parents forever on the brink of divorce; and Pandora, the capricious love of his young life...