Adrian Mole: The Complete Series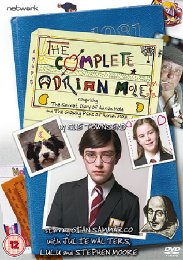 Certificate: 12
Running Time: 325 Mins
Retail Price: £20.41
Release Date: 03/07/2012
Content Type: TV Series
Synopsis:
"Just my luck - we're in the middle of a national crisis and my nose has swollen up repulsively."

Adapted from Sue Townsend's bestselling novels, these hit series chronicle the everyday traumas and emotional upheavals of the legendary teenage diarist as he struggles to come to terms with life in the 1980s. Gian Sammarco is the angst-ridden scribbler with literary aspirations, with Julie Walters and Lulu successively portraying his mother, Beryl Reid his opinionated grandma, Stephen Moore his errant father, and Bill Fraser his elderly chum, Bert Baxter.

Adrian certainly has much to contend with. Spots erupting on his chin; 'Good Samaritan' visits to an OAP who's even more obnoxious than his dog; Barry the school bully and his extortion rackets; warring parents forever on the brink of divorce; and Pandora, the capricious love of his young life...
Special Features:
None

Related Websites:
http://www.networkdvd.net/product_info.php?products_id=1583

Video Tracks:
1.33:1 / Colour

Audio Tracks:
Mono / English

Directed By:
Peter Sasdy

Written By:
Sue Townsend (novels)
Trevor Waite
Oscar Webb

Starring:
Gian Sammarco
Julie Walters
LuluStephen Moore
Bill Fraser
Lindsey Stagg
Steven Mackintosh
Beryl Reid
Chris Gascoyne
Freddie Jones
Mary Maddox
Brenda Cowling
Ahmed Khalil
Doris Hare
Meera Syal
Lucy Benjamin

Casting By:
Pat O'Connell

Soundtrack By:
Chaz Jankel

Music From:
Ian Dury

Director of Photography:
Simon Kosoff

Costume Designer:
Moira Wallington

Producer:
Peter Sasdy
Lloyd Shirley

Distributor:
Network DVD