The Edgar Wallace Mysteries: Volumes 1 & 2 come to DVD this July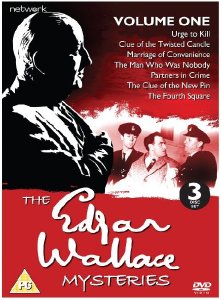 Retro still seems to be where its at, especially with
Network Video
on the case. Today we have
The Edgar Wallace Mysteries: Volume 1
and
The Edgar Wallace Mysteries: Volume 2
arriving on 30th July.
With scripts by Philip Mackie and Robert Banks Stewart, these star Bernard Lee, Harry H, Corbett, Hazel Court, Paul Eddington and Conrad Phillips. Made at Merton Park Studios during the first half of the 1960s, both releases contain 8 complete uncut episodes, a booklet by author and critic Kim Newman, image gallery and PDF material.
Volume 1
includes a non-Wallace story
Urge to Kill
which was included in syndication packages, and
October Moth
, one of seven thrillers made by Independent Artists Ltd during the same period.
Volume 2
also features
The White Trap
, also made by the aforementioned production company.
The recommended retail price for each release will be £29.99, whilst both contain a running time of about 420 minutes, spread across three disks of full frame magic.
Marketing blurb follows...
With a noir-esque feel, the series updates some of the legendary writer's stories to more contemporary settings, blending classic B-movie elements with a distinctly British feel.
Unseen for decades and freshly transferred from the original film elements specifically for this release, all 47 films will be released over seven volumes courtesy of Network DVD.
Volumes 3 & 4 are set to arrive on 17th September, whilst 5, 6 and 7 turn up on 15th October.