Fast moving French crime thriller The Prey comes to DVD in July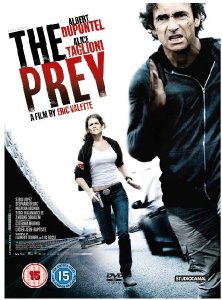 Studio Canal
have announced the release of last year's French crime thriller
The Prey
on DVD this coming 23rd July.
Directed by Eric Valette, this stars Albert Dupontel of
A Very Long Engagement
fame, Olivier Schneider from
Unknown
, Caterina Murino from
Casino Royale
, Stephane Debac who was in
The Happening
, it also features Sergi Lopez and Alice Taglioni.
Alas no extras at all for this one, but expect a street price of under £10 to compensate.
Synopsis is as follows...
Frank Adrien is serving a prison sentence for robbing a bank to pay for the specialised care his daughter requires. Only he knows where the money is, which pleases neither his wife nor former partner who is also locked up in prison. In fact, the only person Frank confides in is his cellmate Jean-Louis Maurel, a suspected rapist and child molester. Maurel claims his innocence and the court finds him not guilty.
When released, Maurel uses everything Frank told him against him and accuses him of being responsible for the series of murders he truly committed. It is only then that Frank learns form a disfigured ex-cop that he was actually sharing his cell with a serial killer and that Frank's family and hidden fortune are now in jeopardy.
Forced to run out of prison to save both his daughter and his identity, Frank races across France to stop Maurel with Detective Claire Linne on his chase. A brutal manhunt results in the mountains and forests of eastern France. At every turn, the hunter is just one step away from becoming the hunted.