Michael Keaton thriller Penthouse North stumbles onto Blu-ray and DVD this February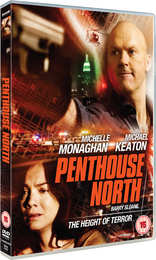 Old school home cinema fans will definitely have heard of
Image Entertainment
from the US, well know
RLJ Entertainment
is bringing this label to the UK and has announced the 3rd February DVD and Blu-ray release of
Penthouse North
.
Directed by Joseph Ruben, this stars Michael Keaton, Michelle Monaghan and Barry Sloane.
In it's original 16:9 aspect ratio with 5.1 Dolby Digital and Dolby Stereo soundtracks, the recommended retail price will be £12.99 for the SD release, and £15.99 for the HD version.
Synopsis and trailer follow...
It's New Year's Eve in New York City and everyone's getting ready to party. Watching, waiting, a man called Hollander has a different party in mind. Alone in her high-rise apartment Sara has no idea that her boyfriend was a thief. But she's about to discover her life is in severe danger because of what he stole and who from.
Sara finds herself trapped in the penthouse with Hollander and his sadistic partner, the vicious pair will do whatever it takes, torture, tear the place apart and even kill to find what they're looking for. While the party rages outside, inside Penthouse North Sara must fight for her life. It's kill or be killed in this pulse-pounding, non-stop fight to the finish thriller.