Thor: The Dark World crashes onto DVD and Blu-ray this February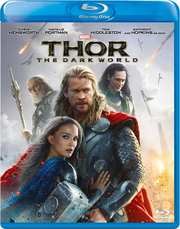 The god of thunder, the bloke with the big hammer, and Marvel comic book hero, is back. Well actually he came back last year, now he's back in the living room courtesy of
Walt Disney Studios Home Entertainment
.
Out on DVD, Blu-ray 3D and normal Blu-ray this coming 24th February is the Alan Taylor directed
Thor: The Dark World
, once again starring Chris Hemsworth, Natalie Portman, Tom Hiddleston and Anthony Hopkins, this time joined by Christopher Eccleston.
Extras on the 2D Blu-ray release include
A Brother's Journey: Thor & Lokio
mini-documentary,
Captain America: The Winter Soldier
first look,
Scoring Thor: The Dark World with Brian Tyler
featurette, deleted and extended scenes, gag reel and commentary track.
The DVD will include a deleted scene and the
Captain America: The Winter Soldier
first look. Expect recommended retail prices of £19.99 for the Blu-ray release, £16.99 for the DVD version, and £22.99 for the 3D release.
Synopsis and trailer follow...
Thor, the Mighty Avenger, battles to save Earth and all the Nine Realms from a shadowy enemy that predates the universe itself. In the aftermath of Marvel's Avengers Assemble, Thor fights to restore order across the cosmos, but an ancient race led by the vengeful Malekith returns to plunge the universe back into darkness.
Faced with an enemy that even Odin and Asgard cannot withstand, Thor must embark on his most perilous and personal journey yet, one that will reunite him with Jane Foster and force him to sacrifice everything to save us all.