Sun drenched classic thriller The Killers arrives on Blu-ray this March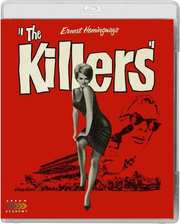 More classic cinema coming to Blu-ray this month, out on 24th February courtesy of
Arrow Films
, is the Don Siegel directed
The Killers
, starring Lee Marvin, John Cassavetes, Clu Gulager, Angie Dickinson and Ronald Reagan.
Loosely inspired by a story from Ernest Hemingway, this post-noir thriller was originally intended to be a TV movie but due to its violent content went to the big screen instead.
Presented with a new HD transfer in both 1.33:1 and 1.85:1 aspect ratios, it comes with a mono PCM soundtrack, English SDH subtitles for the deaf and hearing impaired,
Reagan Kills
interview with writer Marc Eliot,
Screen Killer
interview with Dwayne Epstein, Don Siegel interview, stills gallery, reversible sleeve with both original and new artwork, plus a booklet. The recommended retail price will be £24.99.
Synopsis and trailer follow...
There is more than one way to kill a man. You have to find out what makes a man decide not to run. Why all of a sudden he'd rather die. So muses hitman Charlie after his high-priced victim Johnny North gives in without a fight.
Obsessed with the answer, Charlie and his hot-headed associate Lee track down Johnny's associates, and uncover a complex web of crime and deceit involving his femme fatale girlfriend Sheila and ruthless mob boss Jack Browning.