Italian crime noir Inspector De Luca comes to DVD this April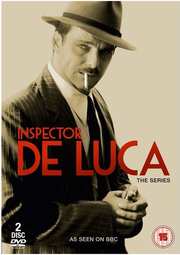 If you like your crime thrillers to be of the noir persuasion, but seek foreign shore based entertainment that is not of the Nordic variety for a change, then
Arrow Films
might have just the thing for you arriving on 14th April on their
Noir
label.
Out on DVD is Italian period series
Inspector De Luca
, starring Alessandro Preziosi. Containing four TV movies of the series
Unauthorised Investigation
,
Carte Blanche
,
Murky Summer
and
Goose Way,
each is based on a novel by best-selling mystery writer Carlo Lucarelli.
Alas no other details to bring you, but we do suspect the recommended retail price will be around the £17.99 price point.
Synopsis and trailer follow...
Between 1938 and 1948, from the height of Italy's Fascist regime to the end of the tumultuous post-war period, Chief Detective De Luca investigates and solves crimes in the City of Bologna and along the Adriatic coast.
With little or no regard for those in power, whoever they happen to be, his solitary, uncompromising character often lands him in trouble, but his respect is reserved for truth and justice alone.
Chief Detective De Luca always ultimately gets to the bottom of his cases, though what he finds often leaves a bitter aftertaste.