Public Enemies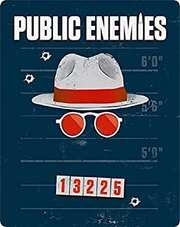 America's Most Wanted
Certificate: 15
Running Time: 140 mins
Retail Price: £24.99
Release Date: 2014
Content Type: Movie
Synopsis:
In the action-thriller Public Enemies, acclaimed filmmaker Michael Mann directs Johnny Depp, Christian Bale and Academy Award winner Marion Cotillard in the story of legendary Depression-era outlaw John Dillinger (Depp)--the charismatic bank robber whose lightning raids made him the number one target of J. Edgar Hoover's fledgeling FBI and its top agent, Melvin Purvis (Bale), and a folk hero to much of the downtrodden public.

No one could stop Dillinger and his gang. No jail could hold him. His charm and audacious jailbreaks endeared him to almost everyone--from his girlfriend Billie Frechette (Cotillard) to an American public who had no sympathy for the banks that had plunged the country into Depression.

But while the adventures of Dillinger's gang--including the sociopath Baby Face Nelson (Stephen Graham) and Alvin Karpis (Giovanni Ribisi)--thrilled many, Hoover (Billy Crudup) hit on the idea of exploiting the outlaw's capture as a way to elevate his Bureau of Investigation into the national police force that became the FBI. He made Dillinger America's first Public Enemy Number One and sent in Purvis, the dashing "Clark Gable of the FBI".

However, Dillinger and his gang outwitted and outgunned Purvis' men in wild chases and shootouts. Only after importing a crew of Western ex-lawmen (newly baptised as agents) and orchestrating epic betrayals--from the infamous "Lady in Red" to the Chicago crime boss Frank Nitti--were Purvis, the FBI and their new crew of gunfighters able to close in on Dillinger.
Special Features:
Historical Interactive Timeline
Picture in Picture
Audio Commentary
Larger Than Life: Adversaries
Michael Mann: Making Public Enemies
Last of the Legendary Outlaws
On Dillinger's Trail: The Real Locations
Criminal Technology
Gangster Movie Challenge Game.

Video Tracks:
2.40:1 widescreen 1080p

Audio Tracks:
DTS-HD MA 5.1 Surround English
Dolby Digital 2.0 Stereo English Audio Descriptive
DTS 5.1 Surround French
DTS 5.1 Surround Spanish

Subtitle Tracks:
English
French
Spanish

Directed By:
Michael Mann

Written By:
Michael Mann
Ronan Bennett
Ann Biderman
Bryan Burrough

Starring:
Christian Bale
Christian Stolte
Jason Clarke
Johnny Depp
Stephen Graham
David Wenham
Stephen Dorff
Michael Vieau
Carey Mulligan
James Russo
Giovanni Ribisi
Marion Cotillard

Casting By:
Avy Kaufman
Bonnie Timmermann

Music From:
Elliot Goldenthal

Director of Photography:
Dante Spinotti

Editor:
Jeffrey Ford
Paul Rubell

Costume Designer:
Colleen Atwood

Production Designer:
Nathan Crowley

Producer:
Michael Mann
Kevin Misher

Executive Producer:
G. Mac Brown
Robert De Niro
Jane Rosenthal

Distributor:
Universal