Oliver Hirschbiegel directed biopic Diana comes to DVD and Blu-ray this March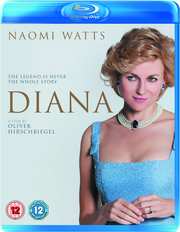 We aren't sure if this is ideal for
Daily Express
readers or not controversial enough for them, but regardless of that,
Entertainment One
have announced the release of biopic
Diana
for 24th March, on DVD and Blu-ray.
Directed by Oliver Hirschbiegel and starring Naomi Watts, Naveen Andrews and Geraldine James, expect a recommended retail price of around £12.99 for the standard definition release, and £15.99 for the hi-def version.
Synopsis and trailer follow...
Celebrated and adored by millions, she was the Queen of people's hearts, yet the bittersweet story of the last man to truly capture hers has never before been told.
Princess Diana, at one time the most famous woman in the world, inspired a nation with her generosity, compassion and kindness - and in her final years she would meet the man who, in turn, inspired her.
In a story that until now has remained untold, Diana introduces a time in the Princess's life that was uniquely important in shaping her final years, fulfilling her search for true happiness and sealing her legacy.