Psychological horror The Invoking creeps onto DVD in May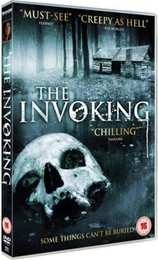 This isn't your usual cabin in the woods horror movie, oh no. Out on 12th May courtesy of
Image Entertainment
is
The Invoking
, written and directed by Jeremy Berg, and starring Brandon Anthony, Carson Holden and D'Angelo Midili.
In its original 16:9 aspect ratio with both Dolby Stereo and 5.1 Dolby Digital soundtracks, this will carry a 15 certificate.
Extras will include The Making of Invoking featurette, commentary track with the actors and additional commentary track with the director and producer. The recommended retail price will be £12.99.
Synopsis and trailer follow...
In your childhood home some things can be buried, but the truth will come back and kill. Raised by foster parents, Sam claims to remember nothing of her childhood, but it remembers her.
When she discovers she has inherited a property, she invites three friends to join her on a trip that will change their lives forever. A young reclusive caretaker, a childhood friend of Sam's is there to greet them, but something else is waiting for her in the house, something dark and deadly.
The ghosts of a past she has long forgotten are coming back to haunt her with a pounding, slashing, raging terror.