Edgar Wallace classic The Missing Million comes to DVD in July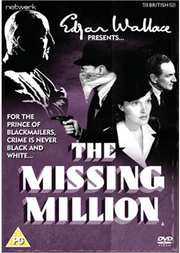 Golden oldie era crime drama time!
Network Video
have another release in their
The British Film Collection
series out on 22nd July. Based on the story from Edgar Wallace,
The Missing Million
is a wartime thriller and coming out DVD.
Presented in it's original full frame black and white with a brand new transfer from original film elements, this is directed by Philip Brandon and stars John Stuart, Linden Travers and Patricia Hilliard. The recommended retail price will be £9.99.
Synopsis and trailer follow...
Luminous English Rose Travers plays a plucky young lady who assists a clueless-but-headstrong police inspector in the search for her brother who has gone missing on the eve of his wedding.
Of course, being a Wallace tale, what superficially appears to be a parochially glamorous setting twists and turns into something decidedly other, an alternate Wallace Dimension populated with cheerfully mithering maidservants, deferential bobbies and hitting all the bullseyes a misogynistic comedy Cockney safecracker sidekick.
Add in a fair sprinkling of stiff upper-lippery, bodies in closets, dialogue delivered in the best Mr Cholmondley-Warner style and a main villain called The Panda and it's no wonder that Wallace's films continue to entertain so many decades after they were made.