Classic TV drama Children's Ward comes to DVD this July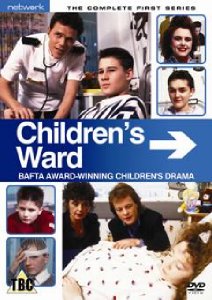 CHILDREN'S WARD
THE COMPLETE FIRST SERIES (TBC)
Network is delighted to announce the release of CHILDREN'S WARD - THE COMPLETE FIRST SERIES on DVD to buy on 4th July 2011. This is the first time the complete series of this award - winning series is available in a two-disc set, RRP £19.99.
The show kicks start with a fast - paced, explosive episode; a doctor missing from duty as he is called to a comatosed thirteen year - old girl in a road traffic accident; a seven year - old boy haemorrhaging in the ward who is desperately in need of said doctor's attention; a schedule to which it is impossible for the Charge Nurse to adhere under the present mayhem and pressure… all of that excitement and taut drama can be viewed here in the award - winning CHILDREN'S WARD - THE COMPLETE FIRST SERIES. The series details the trials and tribulations of the lives of the staff and patients of Bolton General Hospital.
Starting life in 1988 as a contribution to the Dramarama anthology, titled
Blackbird Singing in The Dead of the Night
- which is included in this set as a special feature. CHILDREN'S WARD then goes on and becomes a popular, intelligent and long - running series. Penned by an award - winning group of writers including Paul Abbott (
Clocking Off, Shameless
) and Kay Mellor (
Just Us, Band of Gold
), CHILDREN'S WARD deals with difficult topics such as cancer, alcoholism, drug addiction and child abuse with respect, sensitivity and intelligence. The show also features fresh, energetic performances from Chris Bisson (
East is East
), Tim Vincent (
Emmerdale
), Rita May (
Drop Dead Gorgeous
) plus many more. This is a series that is loved by both adults and children alike.
Special Features:
Dramarama:

Blackbird Singing in the Dead of the Night
NOTES TO EDITORS
CHILDREN'S WARD - THE COMPLETE FIRST SERIES (TBC) is a Network release
Release Date: 4th July 2011
RRP: £19.99
Discs: 2
Running Time: 325 mins (approx.)
Screen Ratio: 1.33:1 Colour
Disc One
Episode One
Chaos abound as the ward receives a new admission: a seven year - old boy is haemorrhaging, the Charge Nurse is five hours behind schedule and there is still no sign of the new doctor who, in fact, was called to a road traffic accident case in which a thirteen year - old girl is in a coma
Episode Two
Fiona Brett is still in a coma: Mr. and Mrs. Brett are told not to raise their hopes. Nurse Gary Miller gets off to a disastrous start on the ward dealing with Billy - he gets his revenge by causing more trouble and Tiffany's pre - operation treatment is ruined. Charlotte loses her daily report: she finds it glued to Dawn's puppet head. Billy's father pays him a visit but they don't talk. Keeley is more interested in his next visitor - Dean
Episode Three
Dr. McKeown wants to encourage children to have contact with Fiona Brett. Mr. & Mrs. Brett argue about Mr. Brett's returning to work and when school friend Lindsay comes to visit Fiona, Mrs. Brett blames her for Fiona's accident
Episode Four
Fiona Brett is still in a coma but is moved to the children's ward with the hope that this might help. Both Ben and Keeley are having problems with their weight. Keeley and Dean have a chat on their own in the day room - Billy is jealous…
Episode Five
The mysterious new boy will not speak to any of the staff, but another new boy who arrives on the ward on the same day with an asthma attack becomes his friend, and they find out his name is George. Dave discovers that Dr. Woods is the social worker's girlfriend…
Episode Six
George wakes up following his epilepsy attack, but won't talk. Keeley notices Charlotte's engagement ring and lets Dave know about it. Charlotte suggests making up a foursome with Dave. While Charlotte, Steve, Dave and Janette are having a night out at a fairground, George is there searching for his father…
Disc Two
Episode Seven
Billy, Ben and Darren return to hospital unnoticed. Diane discovers that Billy is drunk. Darren has an asthma attack. Mrs. Brett, delighted to hear that DJ Bruno Brookes is prepared to visit Fiona, and the news of his visit spreads quickly
Episode Eight
It is a big day on the Children's Ward as Bruno Brookes is coming to visit Fiona with the hope that this will bring her out of the coma. All the patients are excited except for Billy who is now suffering from alcohol withdrawal symptoms…
Episode Nine
There is the usual bedlam on the ward, and great concern for Billy and Keeley's weight - Billy is not losing any and Keeley is losing too much. Suzanna returns to the ward from the operating theatre and they discover that she has head lice…
Episode Ten
Fiona has finally opened her eyes, but so far no one in the ward has seen the first flickering of the previously comatose accident victim. Keeley is another patient keeping her own secret from the staff as she hides her uneaten breakfast
Episode Eleven
Keeley discovers Billy drunk in the. Steve arranges for George to go to the community home on long term basis - Charlotte is furious. George's dad comes for George and Charlotte lets him go
Episode Twelve
Dr. McKeown surprises everyone by stating that he is going to take early retirement. Billy tries to help Keeley with her problems which angers her at first, then they decide to help each other. Rebecca takes her first steps cheered on by the rest of the children's ward. Suzanna makes a card for Gary…
Episode Thirteen
It's Alex's birthday and everybody has forgotten, or at least, that is what they have him believe. Keeley has a heart to heart with Dr. Woods and her mother about her not eating, and they seem to have got to the root of the problem…