Olympic comedy Twenty Twelve: Series 2 arrives on DVD this August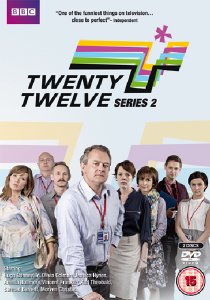 If you enjoy a bit of schadenfreude and have a downer on the Olympics, it's a pretty good bet that you've been watching the spoof documentary currently on show thanks to the Beeb. Well, good news if you missed it, comedy
Twenty Twelve: Series 2
 arrives after the major event on 13th August on DVD and download now, courtesy of
BBC Worldwide
.
Starring Hugh Bonneville, Jessica Hynes, Olivia Colman , Amelia Bullmore, Karl Theobald, Vincent Franklin and Morven Christie, it is narrated by David Tennant. The recommended retail price for Series 2 will be £20.42, whilst there will also be a box set out for £25.52 containing both this and Series 1.
The synopsis is as follows:
So, here's the thing... With the London Olympics drawing even closer than they were before, the challenges are becoming increasingly critical.
From dealing with Algeria's threat to boycott the Games and getting the Olympic Torch Relay Route to go through Shropshire, to creating "Jubilympics" – a joint branding venture with the Queen's Diamond Jubilee and getting the water turned on at his new flat, Head of Deliverance, Ian Fletcher and his team have their work cut out.
Fortunately Head of Brand, Siobhan from PR Agency Perfect Curve is totally plugged-in. So, that's all good.