Sunday Late Night Project hits DVD in November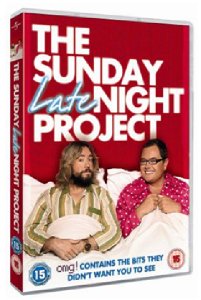 SUNDAY LATE NIGHT PROJECT
DVD Released by Universal Pictures (UK) Ltd on Monday 16TH November 2009
As a special treat for fans of the award-winning The Friday/Sunday Night Project, much-loved showbiz golden couple Alan Carr and Justin Lee Collins bring you a selection of their very favourite clips & outtakes from the series in the new
Sunday Late Night Project
DVD. 
Packed with juicy content from the show that was deemed 'too much for TV',
Sunday Late Night Project
brings you
some of the funniest clips from the series and lifts the veil to expose those un-broadcastable bits they DIDN'T want you to see! 
We are privy to some of the coolest stars from film, music and television fluffing their lines, stumbling over the autocue and generally having a laugh whilst presenting the show! 
The stars behaving badly and those causing mischief include David Tennant, Gok Wan, Lily Allen, Simon Pegg, James Corden, Kim Cattrall, Elijah Wood and many, many more! 
On a cosy night in bed together, Alan and Justin host this trip down memory lane and with unseen footage, revisit some of their favourite and funniest moments from the series - singing Christmas with Girls Aloud, visiting Albert Square with Barbara Windsor and designing lingerie for Elle Macpherson. 
Sunday Late Night Project
will be the only DVD release from the hugely popular television duo this year, and considering Alan and Justin won't be cuddling up on the sofa together again anytime soon, this is a must-have DVD for all The Friday/Sunday Night Project fans. 
Both Alan Carr and Justin Lee Collins are high profile award-winning personalities who are well-loved and always in demand. 
Alan has hosted two series' of the popular Celebrity Ding Dong (Channel 4) and most recently has been hosting his own Channel 4 chat show, Chatty Man as well as his BBC Radio 2 show Going Out with Alan Carr. He has performed sell-out stand up tours and written a best-selling autobiography as well as having a weekly interview slot in More! magazine. Earlier in the year Justin landed his own chat show on ITV2 and has had a number of successful Chanel 4 series' including Conventions Crashers and Bring Back…, in addition to a blooper show OOPS TV and the challenge series on Sky 1, which is currently being broadcast. His autobiography,
Good Times!
, is out now.
'Officially the funniest show on TV'
Heat magazine about The Friday Night Project 
'Britain's funniest celebrity show'
OK! magazine about The Sunday night Project
SUNDAY LATE NIGHT PROJECT, DVD Cert TBC, RRP £19.99
Released by Universal Pictures Ltd on Monday 16th November 2009
© 2009 Universal Studios.  All Rights Reserved.
Good Times!
by Justin Lee Collins, published by Ebury Press £18.99, is out now