John Motson's World Cup Heroes and Villains out in November on DVD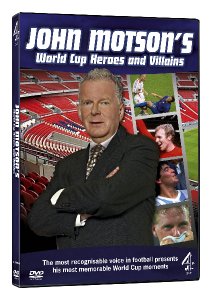 John Motson's World Cup Heroes and Villains
Released exclusively by 4DVD on 23rd November 2009
British broadcasting legend and all-round football expert
John Motson
takes us through his definitive list of
World Cup Heroes And Villains.
With England qualifying for the 2010 World Cup,
John Motson's World Cup Heroes and Villains
is a must for all football fans and is available to own on
Monday 23rd November
courtesy of
4DVD
.
World Cup fever is here, and with every fan counting down the days to the biggest sporting event in 2010, World Cup Heroes and Villains is the perfect way to get even more excited! The voice of football and legendary commentator,
John Motson,
guides us through a celebration of the greatest goals and golden moments, as well as all the traumas and tribulations that can torment a nation. 
John Motson is an institution whose commentaries are part of the fabric of football. Having one of the most recognisable voices, he has described thousands of goals, magic moments and heartbreaking decisions for 40 years. He is a national treasure and his reputation for statistic filled commentaries is a perfect vehicle for this compilation of his
World Cup Heroes and Villains
. 
The DVD is the ultimate collection of the World Cup's most talented performers, featuring:
Pele and the brilliance of Brazil
Maradona's magic (and madness)
The Dutch masters Cruyff and Bergkamp
England's finest from the boys of 66 through Gazza to the present day
With football being a game of two halves there are moments when the hopes and dreams of a nation are crushed by a moment of madness, the DVD also features:
Zidane's head butt
Zaire conceding 9 in one game
Aldo's touchline tantrum
Valderama's bad hair days
Scotland - virtually every campaign involving them has been a nightmare!
In addition to the best and the worst footballers, referees are not let off the hook as there are the worst sendings off, plus all those crazy fans, silly celebrations and the biggest tantrums going. 
John Motson's World Cup Heroes and Villains
has nine exciting sections that will make us cry with tears of joy and despair:
Section 1: Greatest Goals
Section 2: Red Mist, Red Cards and Referees
Section 3: Close Encounters
Section 4: Dodgy Defenders
Section 5: Keeper Classics and Clangers
Section 6:  The Beautiful Game: Shocks and Surprises
Section 7: Controversies and Conspiracies
Section 8: World Cup Crazy
Section 9 Heroes: the Beautiful Game: Fantastic Finals 
DVD Details
Released:                23rd November 2009                           
Price:                        £19.99                                                             
Discs:                        1 disc                        
Running time:        87 mins approx                                  
Cert:                          E                                                   
Cat No:                     C4DVD10306